Name:
                    

James CAMPBELL

—————————————————————————————————————————————

Birth:                     1682                      Drumaboden, Donegal, Ire.

Death:                    bef 24 Mar 1754   Beverly Manor, Augusta, VA

Father:                   Duncan CAMPBELL

Mother:                 Mary MCCOY (1653-)

Misc. Notes

Duncan CAMPBELL & Mary MCCOY (1653 - )

    James CAMPBELL (1682 - bef 24 Mar 1754) & Margaret BEARD (abt 1683 - bef 1780)

        Margaret CAMPBELL (1735 - aft 1777) & Samuel STEELE (1730 - Apr 1803)

            Elizabeth Jannett STEELE (1762 - 1846) & Peter ALEXANDER (1758 - 14 Feb 1842)

                Sarah ALEXANDER (26 Jul 1791 - 2 Oct 1862) & Robert McMAINS (16 Jul 1786 - 9 Sep 1868)

                    Jane S. McMAINS (15 Dec 1811 - 6 Aug 1872) & Marmaduke N. BARNES (abt 1815 - abt 1850)

                        Linia Ann BARNES (6 Mar 1840 - 5 Apr 1880) & Jacob Sylvester ARNEY (1839 - 1927)

                            Mary Ellen ARNEY (24 Apr 1861 - 9 Sep 1935) & Joshua Newton MACHLAN (1859 -1936)

                                Linnie Ellen MACHLAN* (1884 - 1974) & Everett Elmer WALKER (1882 - 1948)

                                    Elsie Maureen WALKER (1903 - 1983) & Leo Newton COFFEY (1901 - 1998)

FAMILY LANDS:

The following map shows the location of family acreage in Augusta County, Virginia. It shows 570 acres James Campbell purchased from James Davis in 1746, and shows 325 acres his son John acquired in 1745. And it shows the location of the Tinkling Spring Meeting House, where there is a large monument naming James Campbell as one of the pioneers into this part of the Shenandoah Valley.  And in green it shows the land of a neighbor John McClure, who is mentioned in James' 1753 will as taking care of a horse that James wants to give to his granddaughter Elisabeth White.

<![if !vml]>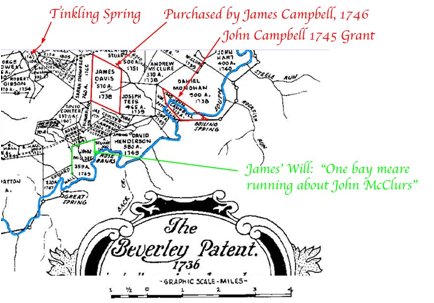 <![endif]>
The Tinkling Spring Presbyterian Church is still active, and the nearby river takes a distinctive turn in the property of son John. That makes it easy to overlay these lands onto a modern map:
<![if !vml]>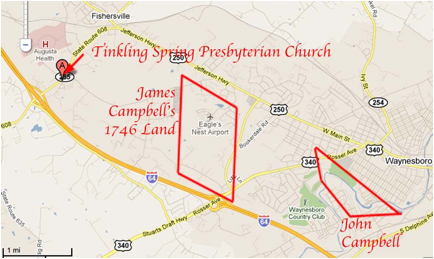 <![endif]>
So, in today's world, it appears that James' land is the location of the "Eagle's Nest Airport", that appears to serve the modern communities of Fisherville and Waynesboro, Virginia. Rent a car there, and drive about 22 miles southwest to the community of "Steeles Tavern". This is where James Campbell's son-in-law and daughter, Samuel Steele and Margaret, settled. And there the Steele's next-door neighbor was Robert Alexander, whose son Peter married Samuel Steele's daughter Elizabeth Jannett "Jenney" Steele.
CONNECTED FAMILIES:
The stories herein are best understood as part of a series of stories about a group of connected families that all settled (or originated) in Augusta County, Virginia, in the 1700's. The following sketch shows how they are connected. There are separate story files for each of the men marked in red (wives are discussed jointly with their spouses).
<![if !vml]>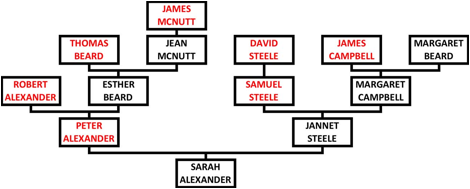 <![endif]>
Notes:
SOURCE: "CHALKLEY"
There are many references herein to The Chronicles of the Scotch-Irish Settlement in Virginia: 1745 to 1800 by Lyman Chalkley. This is a large work, with three volumes of about 600 pages each, containing most of the abstracts of court records in Augusta County. This work is now in the public domain, and readily available online. It is a good starting place, but contains many errors of omission and transcription. To be used with caution.
1744: TINKLING SPRING MEETING HOUSE:
James' early presence is commemorated by a marker at Tinkling Spring Presbyterian Church: "Sacred to the Memory of the Immigrants to this Valley who turned the Wilderness into Habitations: On November ye 12th 1744 these were assessed 12 shillings per family for building the first Tinkling Spring Meeting House… (in) John Finley's Quarter… James Campbell… Samuel Steel… Isaac White… John McClure…".
(This establishes presence no later than 1744, and establishes first known connection to sons-in-law Samuel Steele and Isaac White, and neighbor John McClure.)
1746: CONSTABLE CAMPBELL?
(Chalkley, Volume 1, Augusta Court Records, Vol 1, Page 181): "March 19, 1746/7. James Campbell and John McCown appd. Constables."
1746-1787: LAND TRANSACTIONS:
(Chalkley, Volume 3, taken from Deed Book 1, page 182) "18th February, 1746. James Davice (Davis) to James Campbell, £64 current money Virginia; 570 acres in B. M. deed to Davice by Beverley 21st February, 1738. James ( ) Davis. Witnesses Samuel Gay, Wm. Henderson. Acknowledged, 18th February, 1746."
(Chalkley, Volume 3, taken from Deed Book 27, Page 125): "18th November, 1787. John Campbell, Sr., to James Steel, part of 570 acres formerly property of James Campbell, deceased, and sold to James Steel by consent of said John Campbell, joining John Cloid's part of said tract. Teste: Geo. Hutcheson Ben. Stuart, Andrew Fulton, Robert Bell."
(Comment: This refers to the land acquired by James Campbell in 1746, and refers to his son John Campbell, and grandson James Steele, both referenced in James Campbell's will.  Also note that while many online genealogies suggest son John Campbell died much earlier – this seems to show John was alive and well in 1787.)
1748: ROAD WORK:
(Chalkley, Volume 1) "August 17, 1748. David Edmiston appd. overseer of road from Tinkling Spring to Stuart and Christian's Road, with these: James and John Campbell (and others)."
(Similar road Campbell maintenance references are found for March 21, 1753 and November 24, 1753 – property owners were expected to maintain the roads passing near their property.)
1752: SERVICE IN MILITIA?
(Chalkley, Volume 1) "August 19, 1752. James Campbell, qualified Captain of Foot (soldiers)".
1753: APPRAISER
(Chalkley, Volume 1) "August 17, 1753: (named as appraiser, estate of James Robinson)"
1754: INDENTURED SERVANTS?
(Chalkley, Volume 1) "November 21, 1754: Indenture by Church Wardens binding John Cole to James Campbell is assigned to Saml. McMurty." (Comment: This is just a few days after James' death. I believe that as a consequence of his death, an orphan previously bound to James is sent elsewhere.)
(Chalkley, Volume 1) "November 22, 1754: Maxwell McCormick, servant of James Campbell." (Comment: Context is quite unclear, but suspect this also has something to do with the status of an indentured servant impacted by James' death.)
WILL OF JAMES CAMPBELL:
(Copy made by Betty A. Grove: original spelling and punctuation, Paragraphing added for clarity.)
Will Book, pp. 32-35, Augusta Co., VA
Will written and signed 5 Nov 1753.
Will probated 22 Mar 1754
The Last will and Testament of James Cambel aged about Seventy one years of age and now under the hand of Almighty God sore and Heaveyly afflicted but in perfect strength of Reason and memory as foloweth to wit
I in the first place Commit my soul to got who Gave it and my Body to the Earth from whence it Came to be Buried in a Decent manner and the Charges Thereof to be Defrayed off the whole of what Estate God hath Given me, and
Secondly I leave to my son Daniel Campbel Twoo Hundred acckers of the Land I now inoy (enjoy?) to be Laid off on the North East Line which two hundred accrs I allow to Take in my Dweeling house wherein I now Live with the whole ye medow and Cleare Land appertaining to the Same, in Case he Ever Come to Clame the Same.
I also alow my wife Margret Three Cowes for hir Uss Such as she Sees Cause to Chuse and one nyne year old bay meare which Runeth now about John McClures and one horse Colt a yearling past.
I also alow my wife and my Grand Child Elisabeth White to have Thire maintainance with the above Said three Cows and ye above Said meare and horse Colt with one Cow which I Leave and appoint for the Said Elizabeth white off the above Said premisasess During ye life or Incombrancy of my wife who is to have the Care of said Elisabeth White During my wife's Life but none Els to have any Command over Said Child but hir only
I also alow for the said Elisabeth White one bay meare now four years old Now running about John McClurs and to be Keeped and maintained on ye Said two hundred acckers which twoo hundrd accrs with all and singular the Convenciences and appurtaniancess thereunto Belonging
I alow to my Grand Son James Steele to be and Remain in his hands and Custody until my son Daniel Campbel Come if Ever and if he never Come I alow the said Twoo hundred accers and the apportainances thereunto Belonging to be and Remain as whole and Sole property of him the Said James Steel
I also alow the Remianing part of my Land to be Equaly Divided Quanity and Quality Between my son John Campbell and lasck White both of whome I appoint to alow Daniel Campbel or James Steel to Uss of such particular timber off their parts as the needsesety of the two hundred accers first mentioned whall Requiar etc:
And in Case Daniel Campbel my son Come to Clame his property of said two hundred accers above maide mention of I appoint my son John Campbell and my son in Law Isack Whate to make and alow James Steel my Grand son to be a Sharer with them in one full third part of Each of theire Shares
I alow my wife to Receive all Debts Due or Coming to me with all the Houshould plemihing (Plenishing?) and to inoy (enjoy?) or dispose it as she sees fitt.
(Chalkley, Volume 3) Contains extracts of James Campbell's will, with a few transcription errors. However it confirms "Saml. Steel and Isaac White, executors". Chalkley also has passing reference to the appraisal of James' estate, indexed under name "James Cainpbell". However the following unnamed source seems to have seen the whole thing:
ESTATE APPRAIASAL:
"The apprising Bill of the Estate of James Campbell by Us, Viz
to fourteen head of Chattel (cattle)               11£ 0s 0p
to two horses and two Meares (mares)          9£ 0s 0p
to 3 cagors & han saw one spread one graps  0£ 16s 0p
     (augers, handsaw, spade, grasp)
one Grubanho mall, axces                         0£ 12s 0p
     (grubbing hoe, maul, axes)
one Grindston & a shear & couller (coulter)  1£ 3s 0p
one Goudge (gouge) & two hide                 0£ 8s 0p
one Loom & 14 Roods & headols & other   6£ 0s 0p
     (reeds & heddles)
one Great Coat & one hatt & one Jacket      3£ 0s 0p
one Saddel & a Jacket & Briches                 2£ 0s 0p
     (Total)                                              32£ 39s 0p
April ye 22 1754: John Finley, Archibald Steward, Thomas Steward, Albert Finley
At a Court held for Augusta County the 15 day of May 1754, This inventory or apprisment of the Estate of James Campbell Decd being Returned into Court is ordered to be Record. Test: John Madison Clk C
Spouse:                   Margaret BEARD
—————————————————————————————————————————————
Birth:                      abt 1683                  Drumboden, County Donegal, Ireland
Death:                     bef 1780
Children
James CAMPBELL (1682 - 1753) & Margaret BEARD (abt 1683 - bef 1780)
    Margaret CAMPBELL (1735 - aft 1777) & Samuel STEELE (1730 - Apr 1803)
MISCELLANEOUS RECORDS:
(Chalkley, Volume 1, From Augusta County Court Records, Order Book No. V, Page 38, March 18, 1755) "Margaret Campbell makes oath that the left ear of her son, James Beard was bitten off by a horse." (Comment: Margaret's maiden name was "Beard", and I believe this suggests one of her sons was named "James Beard Campbell". Think this helps confirm that Margaret was indeed a "Beard".)
(Chalkley, Volume 1, County Court Judgments) "Simpson vs. Campbell.--March 12, 1756. To the Worshipful bench of Augusta, we humbly request that you will take particular notice of Margaret Campbell (Cambal), for it is plainly known to all the inhabitants of the lower end of the Cowpasture that she is a common liar and troublesome to all them that she is in neighborhood with, and furthermore it is known that she will swear anything that comes into her mind, which the subscribers by report will make appear.--Hugh Morton, James Montgomery, Wm. Mortain, Wm. Memory, Edward Edwards, Agnes Memory, Wm. Gillespy, Mary Gillespy, Patrick Carrigan, James Beard, James Scot, Samuel McMorry, Margaret Cohiren, James Arbuckle, Thomas Simson, Robt. Gillespy, Margaret Arbuckle, Anne Montgomery, Thomas Fitzpatrick. This was an attachment vs. James Campbell by James Simpson, 17th March, 1756 (five days after above petition.)
Comment: Wow. Not sure I understand this one, but it mentions both Margaret and James Campbell, and is dated shortly after James' death. Weird.
CONNECTION?
I suspect that this Margaret Beard may somehow be related to the Thomas Beard who was the father of the Esther Beard who married Robert Alexander. They all arrived in Augusta County at about the same time. However so far I have not found any source that describes a connection.
WOULD YOU BELIEVE….
http://awt.ancestry.com/cgi-bin/igm.cgi?op=GET&db=jarom-lehi&id=I1560
traces James CAMPBELL's ancestry back to the Roman Emperors and early kings in England -- back to 772 BC.
There are other links that do much the same. As an example, you might visit
http://freepages.genealogy.rootsweb.com/~jamesdow/
The owner of this site, James Dow Allen, traces his ancestry back to Adam and Eve, and includes much of that below. If you want to extend the following, you could start with "Cunedda King of Britain" and use James Allen's data to go on back!
Do I believe I am descended from "Cunedda King of Britain"? Well, if he in fact existed and he had children, then I absolutely believe there is a VERY high probability he is one of my ancestors. The mathematics of genealogy demand it. I am probably related to him by hundreds or thousands of different ancestral paths.
What might be in question, however, is whether the path described below is one of the accurate ones!
Following is the reported descendancy from Cunedda, shown in six-generation increments:
Cunedda King of Britain d: 0772 BC
    2 Rhiwallon King of Britain d: 0750 BC
        3 Gwrwst King of Britain d: 0735 BC
            4 Seisyll (Serwl) King of Britain d: 0721 BC
                5 Antonius Duke of Cornwall
                    6 Aedd Mawr Duke of Cornwall
Aedd Mawr Duke of Cornwall
    2 Prydain Duke of Cornwall
        3 Dyfnarth (Cynfarch) of Brittania
            4 Crydon of Brittania
                5 Cerwyd of Brittania
                    6 Eneid of Brittania
Eneid of Brittania
    2 Manogan of Brittania b: ABT 0105 BC
        3 The Blessed Bran King In Britain d: 0072 BC
          + Anna (Enygeus) "The Prophetess"
            4 Lud of The Britons King of Britons d: 0018 BC
                5 Tenantius (Tasciovanus) King of Britons d: 0026 BC
                    6 Cunobelin (Cymbeline) King of Britons d: 17 AD
Cunobelin (Cymbeline) King of Britons d: 17 AD
    2 Arviragus King of Siluria d: 0074
      + Genissa (Venessa) Claudia of Rome
        3 Marius King of Siluria d: 125 A.D
          + Julia of Iceni
            4 Colius (Coel) "Old King Coel" King of Britons b: BEF 0125
                5 Lleiffer (Lucius) Mawr King of Britons b: BEF 28 May 0137 d: 3 Dec 0201
                  + Gladys of Siluria
                    6 Gwladys Verch Lleiffer Mawr b: ABT 0208
                      + Cadwan Prince of Cumbria b: 0204
Cadwan Prince of Cumbria b: 0204
  + Gwladys Verch Lleiffer Mawr b: ABT 0208
    2 Strada "The Fair" of Cambria b: ABT 0233
      + Coel II of Camulod King of Colchester d: 0262
        3 St. Helena "of The Cross" b: 0248
          + Aurelius Valerius Constantius Chlorus b: 0242 d: bet 328-336
            4 Flavius Valerius Aurelius Constantinius b: 0265 d: 0337
              + Flavia Maximiana Fausta b: 0289 d: 0326
                5 Flavius Julius Constantius II Roman Emp b: Feb 0317 d: 0340
                  + Fausta b: ABT 0320
                    6 Uther "Pendragon" b: ABT 0343
Uther "Pendragon" b: ABT 0343
    2 Arthur or Artorius
        3 Smerviemore
          + Adarian
            4 Ferither-Our b: ABT 0591
              +  Moray b: ABT 0596
                5 Duibhn More b: ABT 0620
                  +  Valentine
                    6 Arthur-Oig MacDwbhn b: ABT 0684
Arthur-Oig MacDwbhn b: ABT 0684
    2 Ferither Eile b: ABT 0730
        3 Dwbhn Fuilt b: ABT 0787
            4 Ferither Finruo b: ABT 0837
                5 Dwbhn Derg b: ABT 0860
                    6 Dubhn Doun b: ABT 0904
Dubhn Doun b: ABT 0904
    2 Diarmid MacDuibhn b: ABT 0982
      + Grain O'Neil b: ABT 0984
        3 Duina (Drivbhne) MacDuibhn b: 1006
            4 Malcolm MacDuibhn b: ABT 1020 d: 1066
              + Cambus Bellus Beauchamp b: ABT 1018
                5 Archibald Campbell b: ABT 1041
                  + Eva Na MacDuibhn b: ABT 1050
                    6 Duncan MacDurine Campbell b: ABT 1040 d: 1097
Duncan MacDurine Campbell b: ABT 1040 d: 1097
  + Dervail Dorothy Crauchan b: ABT 1042 d: BEF 1122
    2 Cailen Maol Maith Campbell b: ABT 1061 d: 1110
      +  Alexander b: ABT 1067 d: BEF 1127
        3 Gillespic Archibald Campbell b: 1090 d: AFT 1162
          + Finetta Fraser b: 1136 d: BEF 1230
            4 Duncan Campbell b: 1158 d: BEF 1248
                5 Dugald Campbell b: 1182 d: 1204
                  + Finlay Mac Gillivrail b: 1180 d: BEF 1270
                    6 Archibald Campbell b: 1199 d: 1280
Archibald Campbell b: 1199 d: 1280
  + Errick Carrick b: ABT 1201 d: BEF 1295
    2 Colin Mor Campbell b: 1230 d: 1294
      + Mary St. Clair b: 1232
        3 Neil Campbell b: 1258 d: 1315
          + Mariota Cameron b: 1260
            4 Colin Callen Oig Campbell b: 1280 d: 1340
              + Helena More b: 1285
                5 Archibald More Campbell b: 1310 d: 1372
                  + Isabelle Mary Lamont b: 1316 d: 1364
                    6 Colin "Longantach" Campbell b: 1344 d: 1413
                      + Mariota b: 1348
Colin "Longantach" Campbell b: 1344 d: 1413
  + Mariota b: 1348
    2 Duncan Campbell b: 1390 d: 1453
      + Margaret Stewart b: 1397 d: 4 Mar 1460
        3 Colin Campbell b: ABT 1428 d: 24 Sep 1489
          + Margaret Stewart b: ABT 1427 d: BEF 1448
          + Janet Dau.of Lord Lorn Stewart b: ABT 1430 d: ABT 1454
            4 Duncan Campbell b: 1454 d: 9 Sep 1513
              + Margaret Douglas b: ABT 1461 d: BEF 1504
              + Margaret Moncrieff b: ABT 1484 d: ABT 1558
                5 Dugal Campbell b: ABT 1480 d: BEF 1600
                    6 Duncan Campbell b: ABT 1550 d: BEF 1618
Duncan Campbell b: ABT 1550 d: BEF 1618
    2 Patrick Campbell b: ABT 1575 d: BEF 1648
        3 Hugh Campbell b: ABT 1600 d: BEF 1678
            4 Andrew Campbell b: ABT 1620 d: BEF 1708
                5 Duncan Campbell b: 1645 d: BEF 1736
                  + Mary McCoy b: ABT 1647 d: 1689
                    6 John Campbell Sr b: 16 Nov 1674 d: 1741
                      + Grizella Grace Hays b: 1677 d: 1770
                    6 Robert Campbell b: ABT 1675 d: BEF 1774
                    6 Dugal Campbell b: ABT 1677 d: BEF 1775
                    6 Hugh Campbell b: ABT 1678 d: BEF 1774
                    6 William Campbell b: ABT 1680 d: BEF 1772
                      + Ann b: ABT 1685 d: BEF 1784
                    6 James Campbell b: 1682 d: BEF 24 Mar 1754
                      + Margaret Beard b: ABT 1683 d: BEF 1780
—————————————————————————————————————————————
Please report corrections or additions to...
FredCoffey@AOL.COM