Misc. Notes
NOTE FROM FRED COFFEY:
THE FIRST PART OF THIS PAPER CONSISTS MOSTLY OF NEWSPAPER ARTICLES, ETC.
PHOTOGRAPHS FROM THE FAMILY LIFE OF AL AND CARRIE LEHMAN ARE SHOWN IN THE SECOND HALF:
Notes from Article in Paper, regarding his retirement from Bethlehem Steel:
"An Allentown native, Lehman was graduated from Moravian College in 1940 with a bachelor of science degree in chemistry.  He later took graduate courses in metallography at Lehigh University and several correspondence courses offered by The Pennsylvania State University.
He Joined Bethlehem Steel in 1940 as an electric furnace observer in the metallurgical division of the Bethlehem plant.  He served in various positions in the metallurgical division for the next 17 years, advancing to the metallurgical supervisor of the division's observation and pyrometry department in 1953.
In 1957 he was transferred to the alloy and tool steel division and named superintendent of the steelmaking department-electric furnace melting.  The period he served as superintendent of that operation was marked by the development of vacuum degassing techniques which improved the quality of steel produced in electric furnaces.  Lehman was able to call on his experience in metallurgy to assist in the development and implementation of these techniques. 
Under his direction, the electric furnace shop's capacity for producing large, vacuum-degassed ingots was greatly increased and the world's largest ingots, exceeding 700,000 pounds in weight, were poured. (Following picture is probably from this time period:)
<![if !vml]>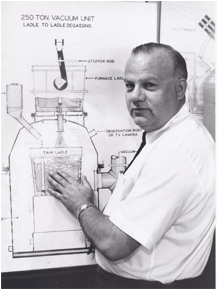 <![endif]>
Lehman is chairman of the technical committee on electric furnace steelmaking of the American Iron and Steel Institute and executive chairman of the electric furnace conference of the American Institute of mining, Metallurgical and Petroleum Engineers.  He also is a member of the American Society for Metals ad the Electric Metal Makers Guild."
(A patent search shows that Albert holds patents #3320053, 4318739, 4468249, 4541862 and 4600427.)
Newspaper article, circa 1971:
"Albert L. Lehman, of Oakhurst Dr., Center Valley R. 1, recently spent one month in Monterey, Mexico, on an assignment with the International Executive Service Corps.
Lehman, a retired superintendent of the electric furnace division at Bethlehem Steel Corp., made the trip to advise the Mexican firm of Grupo Acera Hysla, a steel producer, on electric furnace operations.
The service corps is a non-profit corporation that arranges for mostly retired, but sometimes still-active, executives to assist firms in developing nations.  It was organized in 1964 by  a group of American businessmen headed by David Rockefeller, of the Chase Manhattan Bank in New York City.  To date the organization has answered 2200 requests for executive assistance in 45 countries of Latin America, the and East Asia.
Following from various biographical notes (a resume?) which were in Al Lehman's files:
Graduated from Liberty High School in 1936 from which institution I earned scholastic scholarship to Moravian College, also located in Bethlehem, Pa.
Graduated from Moravian College with a BS in Chemistry in 1940.  Also majored in Physics and Mathematics and was on the Dean's List all terms, graduating with a 3.68 average out of a possible 4.  I earned 150 college credits with 120 necessary to graduate.
<![if !vml]>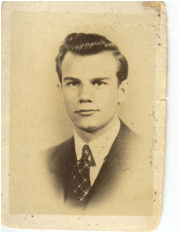 <![endif]>
ALBERT, ABOUT 1940
Other positions (in addition to metallurgical observer mentioned above) were Experimental Engineer, Alloy Conservator, Ass't Metallurgical Supervisor and then Metallurgical Supervisor of Observation and Pyrometry Depts.
After approx. 3 1/2 years at this last assignment I was promoted to Supt., Electric Furnace Melting Dept. on 2/1/57, which was later expanded to include the tool Steel Melting Facility 6 years later.
I was responsible for all electric arc furnace melting at the Bethlehem Plant, which included carbon, alloy, tool steel, stainless, heavy forging, and foundry grades as well as a wide variety of Vacuum Degassing techniques.  My salary was $28,000 annually.
Patents:  I received a patent covering development of a reliable means of injecting argon into one leg of our furnace vacuum degasser.  A patent application is filed covering a new sinkhead feeding technique for very large heavy forging ingot production.  A patent application is filed covering a new unique method of making a super 52-100 bearing steel.  A patent search is currently being made covering a new electrode shape to minimize erosion the refractory side walls of electric arc furnaces employing ultra high power.
I was sent by the Bethlehem Steel Co. to Acos Anhanguera at Moji do Cruze, Brazil for 1 month in '68 to examine, evaluate, and change practices where necessary to improve their alloy steel quality.  I have visited almost every electric furnace ingot producing shop in this country.
Retired 8/31/70 after 30 years service to Bethlehem Steel Corp.  Served as a consultant to Grupo Acero Hylsa de Mexico 11/3/70 to 12-4-70 to alter melting techniques for better utilization of their pre-reduced pellet charge..  Served as consultant to Cobrasma, S.A., Sao Paulo, Brazil, July 1971.   Served as a consultant to Midvale Heppenstalf Co., Philadelphia, on a 3 day per week basis for approx. 1 year.
We have been Baptists for many years but now are members of the Calvary Bible Fellowship Church of Coopersburg, Pa. (written while still living in Center Valley).
Article, "American Metal Market", Jan. 25, 1995:
"DETROIT:  A memorial service will be held Saturday in Boca Raton, Fla., for Albert Lehman, 76, a member of the board of directors and a former president of A. Finkl & Sons, Chicago.
Lehman, who participated in the development at Finkl of extra-low-sulfur steel and continuous cast roll steel chemistry, served as chairman of the technical committee on electric furnace steelmaking of the American Iron and Steel Institute and as chairman of the Electric Furnace Conference conducted by the American Institute of Mining, Metallurgical and Petroleum Engineers.
A spokesmen for Finkl, a manufacturer of forgings, said Lehman also spearheaded the use of heavy melting scrap steel to recover its alloy content while also reducing phosphorous to low levels.
<![if !vml]>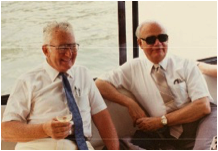 <![endif]>
AL LEHMAN (RIGHT) WITH CHUCK FINKL
Lehman was president of Finkl from January 1984 until his retirement in 1988.  Earlier, he had been superintendent of the electric furnace melting operations at Bethlehem Steel.
Survivors include his wife, Carolyn; a daughter, Carol Coffey; and a son, Albert Lehman Jr."
Notes from A. Finkl Press Release
(items adding info to above):
"Mr. Lehman came to A. Finkl & Sons Co. after three decades with Bethlehem Steel -- 15 years in metallurgy and 15 years as superintendent of the electric furnace melting operation.  With this background of experience in the heavy forging sector, Lehman's job at Finkl was to develop new steels, fine-tune processing practices, penetrate new markets, and expand market share.
Upon joining Finkl, Lehman started with the FX die steel chemistry, varying melting and deoxidation techniques, changing mold designs, altering hot tapping procedures and, in general, upgrading quality to a level equal to the finest rotor quality steel available.  As a result, the transverse strength of Finkl's die block steel was improved by 1,000 percent, thus greatly minimizing die block breakage.  This heightened steel quality and greatly expanded Finkl's customer base.
Under Lehman's direction, other successful efforts to increase market share including the use of Maxi Drill for oil-field application; development of extra low sulfur steel, which was patented; introduction of continuous cast roll steel chemistry, also patented; and, for the first time ever in the industry, utilization of heavy melting scrap steel to recover their alloy content while, at the same time, reducing phosphorous to very low levels.
Lehman was named President of the Finkl Company in January 1984.  Upon his retirement in 1988, he was succeeded as President by Bruce Liimatainen."
Other Notes:
While Al Lehman had a distinguished career in steel, he never forgot about his family, his church, and his community. 
<![if !vml]>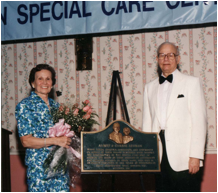 <![endif]>
CARRIE & AL, AT ALZHEIMER FACILITY DEDICATION, 1994
During his retirement at Edgewater Pointe in Boca Raton, he and his wife took special interest in what they were doing for those who had special needs.  He provided much of the motivation and finance for them to address the needs of a special part of their community.  The "Lehman Special Care Facility for Alzheimer's Patients at Edgewater Pointe" is named after Al and Carrie Lehman.