Name:
                    

George Washington MACHLAN

—————————————————————————————————————————————

Birth:                      13 Nov 1832, Rush Co., Indiana

Death:                     25 May 1912, Leon, Decatur Co., Iowa

Burial:                     Leon Cemetery

Father:                     William MACHLAN (1800-1833)

Mother:                   Elizabeth STITES (1803-)

John MACHLAN (1763 - 17 Nov 1839) & Hester UPDEGRAFT (1770 - 1814)

    William MACHLAN (1800 - 28 Jul 1833) & Elizabeth STITES (1803 - )

        George Washington MACHLAN (13 Nov 1832 - 25 May 1912) & Elizabeth Ellen MANN (1836 - 1906)

            Joshua Newton MACHLAN* (17 Oct 1859 - 8 May 1936) & Mary Ellen ARNEY (1861 - 1935)

                Linnie Ellen MACHLAN* (30 Sep 1884 - 7 May 1974) & Everett Elmer WALKER (6 Feb 1882 - 1948)

                    Elsie Maureen WALKER (20 Nov 1903 - 12 Mar 1983) & Leo Newton COFFEY (1901 - 1998)

Misc. Notes

<![if !vml]>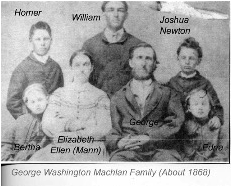 <![endif]>
FROM: Biographical and Historical Record of Ringgold and Decatur Counties, Iowa"(Lewis Pub Company (1887)), p. 489:
<![if !vml]>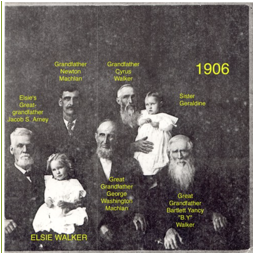 <![endif]>"GEORGE W. MACHLAN is a native of Rush County, Indiana, born November 13, 1832, a son of William and Elizabeth (Stites) Machlan, his father a native of Ohio and his mother of Indiana. He was reared on a farm, but in his youth learned the carpenter's trade, at which he has worked in connection with attending to the duties of his farm. His educational advantages were limited, the district school being his only resource. In 1854 he came to Iowa and made his first purchase of land in Decatur County, and in the fall of 1858 moved with his family to the new home. To his original purchase he has added 280 acres, and now has one of the most finely-improved farms in Southern Iowa, his landed estate numbering 505 acres. He is a public-spirited, influential citizen and a representative man of his township. He has served fifteen years as trustee, and also as clerk of his township, and has been one of the foremost in advancing the educational interest. In politics he is a Republican. His wife and family are members of the Methodist Episcopal church.
Following is taken from "History of Decatur County Iowa and Its People"
By J. M. Howell and H. C. Smith, supervising eds. 2 vols. Chicago: S. J. Clarke Pub. Co., 1915:
"George W. Machlan became a resident of Decatur County in the early days when much of the land was still in the possession of the government and entered his homestead. He followed general agricultural pursuits and also gave considerable attention to stock raising and, moreover, worked at the carpenter's trade to some extent. He passed away in Leon, Iowa, in 1912, when eighty years of age. They were the parents of five children, namely: William A.; Homer, a resident of Des Moines; Newton, who is living in Milo; Mrs. Edna Thompson, of Leon; and Mrs. Bertha Britt, of Davis City."
"The following (contribution was) prepared by J. N. Machlan (son of George). The writer makes the items doubly interesting by using the historical present tense:"
"As Abraham Lincoln is now running for President of the United  States it is fitting that some demonstration in honor of the occasion be given at Leon. It is useless to state that there is no little interest shown by both political parties on the occasion. Prominent among the Lincolnites that are among those that are parading the streets of Leon are Jesse Roberts and George Machlan, who with a string of teams hitched to a wagon loaded with logs are playing an important part as they pass through the streets of young Leon, one of them driving and the other splitting rails with a mall and wedge."
1840 CENSUS,  ORANGE, RUSH COUNTY, INDIANA:
See notes with his mother, Elizabeth Stites. By 1840 she had re-married to Wm. Selby, and George clearly fits into the head count.
1850 CENSUS, INDIANA, RUSH COUNTY, 97TH DISTRICT:
(MEMO: The family in this 1850 census requires some explanation: George Machlan's mother Elizabeth Stites first married William Machlan. They had 3 children, then William Machlan died in 1833. She then married William Selby, and they had 4 children, then William Selby died in 1844. She then married Randolph Lee, whose wife Eliza Hammond had died in 1846 after they had 6 children. There is more discussion in the files for William Machlan and Elizabeth Stites.)
So in 1850 this family is headed by Randolph Lee, age 48, and his wife Elizabeth (Stites/Machlan/Selby), age 47. There are three "Lee" children by Randolph's first marriage; William 16, Peter 13 and Martha 9. There are two Machlan's by Elizabeth's first marriage; Homer L Macklin age 19 (George's brother), and then our "Geo W Macklin" age 17 -- the two Machlan's are listed as "farmers" but have attended school within the past year. Finally, there are four children by Elizabeth's second marriage to William Selby with the last name "Selby" -- Joshua age 14, Eliza age 12, Katherine age 9, and Rachel age 7.  Got that?
INDIANA MARRIAGE RECORDS:
Marriage of George W. Machlan and Elizabeth E. Mann on 25 Aug 1853, Rush County, reported in Book 7, page 335. (Viewed abstract only.)
1860 CENSUS, IOWA, DECATUR COUNTY, FRANKLIN TWP:
The name is spelled "Macklin" by the census taker. George W. is 27, a farmer, born in Indiana. They have real estate worth $1000 and other estate worth $150. Elizabeth E. is 23. Both were born in Indiana. Living at home are William A, age 6, born in Indiana, Homer, age 3, born in Indiana, and Joshua N., age 10 months, born in Iowa. Note family records say Joshua was born in 1860, but this obviously proves it was 1859!
1870 CENSUS, IOWA, DECATUR COUNTY, FRANKLIN TWP:
Complete family is found. They have real estate worth $8000, and personal estate worth $2000. Joshua is age 11, supporting the 1859 birth date. The school-age kids have been attending school.
1880 CENSUS, DECATUR COUNTY, IOWA:
Living in the home are George who is 47, Elizabeth is 44, Homer is 23, J. Newton is 20, Edna is 18, Bertha is 16. The three males all show occupation of "Farmer". George was born in Indiana, his father in Ohio, his mother Indiana (I think). Wife Elizabeth was born in Indiana, and her parents in Kentucky. Of the children, Homer was born in Indiana and all the younger ones were born in Iowa. Only Newton and Bertha are marked as having attended school within the census year.
1885 IOWA CENSUS, DECATUR COUNTY:
Geo. W. and wife E.E. found with daughters E.A. and B.L. (The census taker liked initials!)
1900 CENSUS, IOWA, DECATUR CO., FRANKLIN TWP (WELDON):
George and Elizabeth are age 67 and 64, and have been married 47 years. She has had 5 children. Both were born in Indiana. His parents were from Ohio, hers were from Kentucky. They own their farm, and have a mortgage on it.
1905 IOWA CENSUS, DECATUR COUNTY:
George and Elizabeth found, no children at home.
1910 CENSUS, IOWA, DECATUR CO., CENTER TWP:
George is living alone, is age 77. No occupation is listed. He owns his property, has no mortgage, and the property is classified as a "farm". (Center Twp includes Leon.)
FIND-A-GRAVE: Death 25 May 1912, buried in Leon cemetery.
Spouses
—————————————————————————————————————————————
1:                           Elizabeth Ellen MANN
Birth:                      21 Mar 1836, Rush County, Indiana
Death:                     14 Dec 1906, Leon, Iowa
Father:                     Jacob MANN (1796-1871)
Mother:                   Elizabeth EARLYWINE (1803-1865)
Marr:                       25 Aug 1853, Rush County, Indiana
See report on her husband George Washington MACHLAN for more info.
From Obituary - Decatur County Journal, December 20, 1906
Elizabeth Ellen Machlan was born in Rush County, Ind., March 21, 1836.  Departed this life December 14, 1906, aged 70 years, 8 months and 2 days.  Between these dates lies the life history, covering a little more than the allotted three score and ten years -- a period that, looked back upon, seems all too short.
Sister Machlan's maiden name was Mann.  On August 25, 1853, when in her 18th year, at her childhood home, she was united in marriage to Geo. W. Machlan, who, after over 53 years of happy wedded life, survives to mourn her departure.  Five children, three sons and two daughters, were given to bless their home.  Two of them were born in Indiana and three in Iowa.  They all survive their mother and are present today.  They are - William A., of Weldon; Homer E., of Des Moines; J. Newton and Mrs. Edna A. Thompson, of Leon; and Mrs. Bertha L. Britt, of Davis City.  Besides these there are twenty-nine grandchildren and three great-grandchildren.
In September, 1858, the family, consisting of husband and wife and two children, came to Franklin township, Decatur County, Iowa, where they resided continuously until five years ago, when they moved to the present home at Leon.  In that early day, nearly fifty years ago, when they came to the bleak prairies of Iowa to make a home, conditions were vastly different from what they are today.  Then the pioneers suffered hardships of which this generation can know nothing.  There were no railroads near, no telephone, no rural routes; Ottumwa and Keokuk the nearest points.  While the husband and father would go on those long trips to secure supplies for the family, she was the care-taker of the home, at first but a cabin home, but what with honest toil and the blessings of God, they accumulated enough of this world's goods to give her all the comforts of life in her last years.
(OBSERVATION BY FRED COFFEY: I know the above writing style! This obituary was written by Elizabeth's son - J. N. Machlan!)
1850 CENSUS, INDIANA, RUSH COUNTY:
"E.E." is tabulated in this census as age 14. She was born in Indiana, and has attended school in the past year. She has a younger brother, Jacob, who is age 11. Her mother is Elizabeth Mann, age 47, who was born in Kentucky and who is unable to read or write. Her father is Jacob Mann, age 54, occupation gunsmith, born in Kentucky, with real estate worth $1500.
George Washington MACHLAN (13 Nov 1832 - 25 May 1912) & Elizabeth Ellen MANN (21 Mar 1836 - 1906)
    William Allan MACHLAN (30 Jun 1854 - 11 Sep 1915)
    Homer Ephriam MACHLAN (25 May 1857 - 29 Sep 1934)
    Joshua Newton MACHLAN* (17 Oct 1859 - 8 May 1936) & Mary Ellen ARNEY (24 Apr 1861 - 9 Sep 1935)
    Joshua Newton MACHLAN* (17 Oct 1859 - 8 May 1936) & Martha Emmaline TINIUS (16 Aug 1887 - 1969)
    Edna Annis MACHLAN (5 Sep 1861 - 11 Jun 1924) & Clemion Edmond THOMPSON (22 Jan 1869 - 1946)
        Ralph Leo THOMPSON (22 Jan 1891 - 21 Jul 1967)
            Cleon Lester THOMPSON (23 Aug 1915 - 11 Nov 1981)
                Patrica Mae THOMPSON (15 Jun 1936 - ) & Keith Clair WELCH (15 Aug 1933 - )
    Bertha Louisa MACHLAN (20 Jun 1863 - May 1912)