The Coffey / Chenault Connection:
I have recently exchanged a number of notes with Rev. John Chenault, who lives in Frankfort, KY. The topic has been mostly about our connections involving the family of Edward Coffey, the early American from whom many of the Coffey Cousins descend. And most specifically, the focus has been on two of Edward's daughters, Annister and Anstes, and also on Annister's base born son, James.
I am not an expert on the family of Edward. I invite any reader to PLEASE help me out with comments or corrections on the following – my interpretations may need some adjustments!
This package will link together several exhibits and documents. Please click on any hyperlinks that interest you:
First, if he has not already done so, the reader is invited to examine a fairly lengthy document that discusses the son James Coffee, and his connection to Annister, and her parents Edward Coffey and Ann (Powell) Coffey.
Marvin D. Coffey wrote a book, and later added a supplement, on his ancestor James Bluford Coffey. That book has several references to Annister Coffey, the presumed mother of this James Coffey. Click here to link to an extraction from Marvin's Book (Attachment I).
I have also been corresponding with John Chenault, who believes he is descended from Annister through her later marriage to Stephen Chenault II. He sent me a note, and a letter, explaining his view. Click here to link to John Chenault's Notes (Attachment II).
Additional information on the Chenault family history, and connections to the Coffey family, can be found on The Chenault Family National Association web page at http://www.chenault.org/ . This source believes that Stephen Chenault Jr. first married Annister's sister Anstes, and they had four sons. He later married Annister, and they had one more son named William.
In support of his interpretation (that James' mother Annister later married Stephen Chenault II, and had had a son William Chenault in 1749 who was his ancestor), John provided a copy of a Merchant Account for King and Queen County, Virginia, dated August 7, 1749, showing the name Annester Chinault, at about the time his ancestor William Chenault was born.
John gave me this copy on two pages, which where obviously once opposite each other in the account Folio. I have assembled them into a single sheet, as shown in the above link.
(The Folio seems to offer a form of double-entry bookkeeping. I'm not sure I interpret it correctly, but it appears that on the left side Annester paid a previous bill for sundries, which had been recorded in the shopkeeper's Journal for a total of 4£, 6s, 7p. On the right side it appears that the account was settled with a hogshead of tobacco, based on a weight and price shown. The tobacco was worth more than the outstanding Journal account, so Annester took the difference in 43 shillings of cash and 2 shillings worth of brown sugar. The 45 shillings translate as 2 pounds, 5 shillings.)
(A tobacco hogshead typically weighed about 1000 pounds. This particular hogshead contained 994 pounds, and only 769 pounds were needed to cover the Journal balance due. The remaining 225 pounds was valued at 2 pounds, 5 shillings, which the lady took in cash and sugar. It appears that the tobacco price used for settling the Journal account was lower than the price used to give cash, and this may reflect a contractual understanding, that credit would be given subject to payment in tobacco at a previously agreed price?)
John Chenault also did some additional digging on this transaction, and adds the following note: "I went to the Virginia Historical Society last week to trace Annester Chinault's Merchant's Account, which is the only proof we have that she married Stephen Chenault, Jr. I found that the Book A, which was the one she was recorded in on August 7, 1749, was in the library of William and Mary University, so I went there last Thursday, and held the actual book in my hands, written in 1749, the year my 4th great grandfather, William Chenault was born, 249 years ago. I am confident now that William was the son of Stephen Chenault and Annester, born when she was possibly close to 40 years of age, and when Stephen was possibly 47. The market was run by a man named Ninian Boog for a Liverpool, England firm of Buchanan and Hamilton. She paid for her order with tobacco from Ocupatia Creek* in Essex County. The market was in King and Queen County. (So) your "James" and my "William" are half-brothers, aren't they?"
*(May not be correct. In a subsequent note in December 2008, John says: "… several trips to the Essex County Court House and visits with Susan Derieux have shown conclusively that Stephen Jr. and the Cofeys were not on the occupacio Creek… but were on Gilsons Run near Jones Millpond, which… became Mt. Landing Creek of today.)
Now, the previous work by Marvin Coffey (above) suggested that he thought it likely that the marriage was not between Edward's daughter Annister Coffey and a male Chenault, but was between Edward's son Austin Coffey and a female Chenault. So, the question becomes whether Marvin is correct in reading the name of one child as "Austin", or whether it should be a daughter, "Anstes" or "Austes". So that brings us to the question of exactly what name is shown in Edward's will.
So, John gave us two versions of the original 1715/16 Edward Coffey Will, which we will call Version I and Version II. You are invited to look at these, and maybe print them as an aid to the following discussion.
We think Version I may be a Xerox copy the original draft, and Version II may be a Xerox of what was later hand copied into the Essex County Virginia Will Book. The copies are not very good, but even more difficult is that they are written with a quill pen, in an 18th century style, using extremely "flexible" spelling.
To help with this, I offer a link to a document showing how I arrived at my reading of the name as ANSTES. This is the same interpretation as suggested by John Chenault.
Edward's "Mark":
If you look at the above will copies, you <![if !vml]>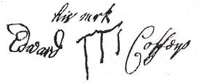 <![endif]>will see that Edward signed with a "mark", per the adjacent strange M-like figure. One guess is that this mark was chosen because he had a vested interest in the plantation "Mosley's Quarter", or maybe it went back to when he was a servant of Mosley?
This mark is taken from the above "Version I" will, which I suspect contains the real mark of Edward, in his own hand. It is rather shaky, consistent with the hand of a man who declares he is "being in bedd of sickness".
From "CHENAULT: A Family Lineage, by R. Stanley Harsh, July 1996:"
John Chenault lent me a copy of this 1996 book, which I have now returned. Most of it of course deals with the Chenault family, but there are several references that are relevant to the Coffeys. I have copied several pages, and include them here for possible future reference. Please note John's margin notes on many of the following pages:
HarshPage23, HarshPage24, and HarshPage25 deal with the question of whether Stephen Chenault II married Anstes Coffey, or married Annester Coffey. The Harsh report concludes that Stephen probably married Anstes, but it was written before the above Merchants Account was found. John Chenault now believes Stephen married Annester.
HarshPage29 and HarshPage30 discusses where Edward Coffey lived relative to various neighbors. I had not seen this map before.
HarshPage72 has some landowner notes about Edward. I think I have most of these, but decided to make a copy to be sure.
HarshPage75 is the inventory of Edward Coffey's estate.
HarshPage76 and HarshPage77 contain a transcript of the will of Edward Coffey's wife, Ann (Powell) (Coffey) Dulin.
HarshPage84 shows the inventory of the estate of Thomas Powell, the father of Ann, Edward Coffey's wife. (I had previously found Thomas Powell's will, but had not seen his inventory.)