Coffey/Walker Family Connections
Surry County, North Carolina
I was fascinated to discover that the Court Minutes for Rowan and Surry Counties, North Carolina, contained more than 200 references to my known and probable relatives. I was also fascinated, for historical background, to find that these minutes contained many entries relevant to the history of our country during the American Revolution, and many entries showing the activities and beliefs of the people living there during that time.
This package hyperlinks to a few relevant pages from the minutes of Rowan County, and to all the available pages for Surry County, along with my highlighting and annotations. (I have inserted color highlighting on the page images, with the colors explained below.)
You can click here on Directory to jump to a directory and index of ALL the pages I have for Rowan and Surry Counties. You can use this to look up any name. Just scroll down to the Index section, find the index page you want, look up the name, back up one page, then click on the relevant document and page. (You may have to zoom in or out to get to a magnification that you can easily read.)
Who do I know in Surry County?
The following, marked in yellow, shows all the people found in the Surry Court Notes who are related to me:
<![if !vml]>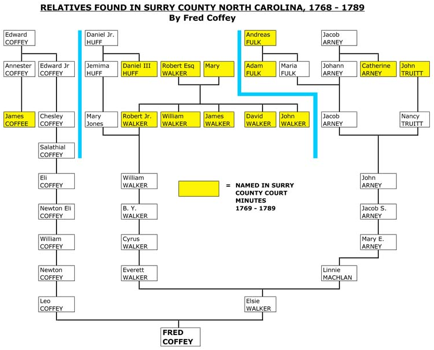 <![endif]>
(If you can't read this, click on Surry Tree.)
As you can see by the blue dividers, there are three totally separate branches of my family with ancestors, aunts, uncles or cousins represented in the court notes. Many of them likely knew each other, but the families were not united by marriage until the 20th century.
ACTUALLY, there's almost certainly a fourth branch. But I haven't PROVEN the connection to my satisfaction yet. You'll read about Marmaduke KIMBROUGH a little later!
Brief History of Surry County:
It's going to be tough to understand these notes, however, if you first don't understand the history of the Counties in the region. We're looking at the northwest part of North Carolina, just south of the Virginia border. In 1753 Rowan County was formed, and a few pages of the County Court minutes for Rowan County are included:
<![if !vml]>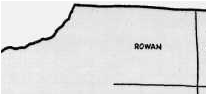 <![endif]>
Then in 1771 Surry County was formed. The Surry County courthouse was established in 1779 at a placed called Richmond. Most of the attached Court Minutes are for this new county, and were recorded at Richmond. (The minutes for Surry County, prior to the occupation of Richmond in 1779, are mostly lost. A few random pages were found, and are included.)
<![if !vml]>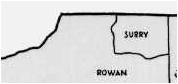 <![endif]>
In 1777 another new county, Wilkes County, was formed just to the West of Surry. Its formation took a small slice out of the western edge of Surry County. This "Wilkes County" is where many Coffey families settled, including my own ancestors. The general area was full of my Coffey relatives!
Then in 1789, Surry was split, and Stokes County was formed. The attached Surry Court Minutes end at the time of this split. The old courthouse at Richmond was now inconvenient, so both counties formed new county seats, and Richmond was ultimately abandoned. The map now looked like this:
<![if !vml]>

<![endif]>
Then in 1849 and 1850 Surry and Stokes counties were each split again, adding Yadkin and Forsyth counties. And where then was the Old Richmond Courthouse site? It was in the new Forsyth County, near where the four counties come together.
<![if !vml]>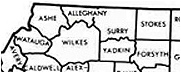 <![endif]>
So where would we go if we wanted to visit the Courthouse where these Surry County Minutes were recorded? The town of Richmond, and its Courthouse, is now just an archeological site, located in Forsyth County, near Tobaccoville, NC, on Payne Road just off Donnaha Road. That would be about 15 miles northwest of Winston Salem, NC.
The Neighborhood, and The Moravian Settlement:
Now I would like to examine the immediate "neighborhood" where my ancestors and their relatives lived. Here is a map of present-day Forsyth County, NC. But keep in mind that at the time Surry County was created this was only the southeast quadrant of that MUCH larger county!
<![if !vml]>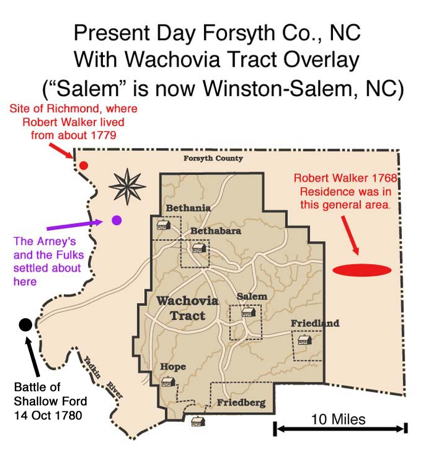 <![endif]>
The overlay in the middle of this picture is the "Wachovia Tract", which had been purchased in the early 1750's by the Moravians, a German religious group from Pennsylvania. Their first settlement was at Bethabara, shown on the map. They next settled Bethania, and then finally created their major community at Salem. This grew to become "Winston-Salem". And old Bethabara is now an historic park and museum within Winston-Salem, North Carolina.
We're going to be talking about Robert Walker, and the rough area where his residence was located in 1768 - 1771 is shown in red to the right. A 1768 tax list has him in the Belews Creek area, which has tributaries running north/south through here. Further, his house is a landmark in the 1771 survey of the southern border of Surry County, which ran east/west through here. On a modern map, his home was probably somewhere near Kernersville, NC.
(NOTE: A passing reference in the 1787 Surry Court Minutes (P109) suggests his old house must have been closer to the far left of the above "red" area.)
(The original 1771 Surry County Line went through the red area, but the Surry Line was moved farther south in 1773, to the present southern border of Forsyth County. Why the move? When Surry was originally surveyed, the Surry politicians didn't much like the Moravians, so they decided to cut most of them off from their new County. However it then dawned on them that these were industrious people, with a lot to offer, and that they could PAY TAXES! So the line was promptly moved farther south to include ALL of the Wachovia Tract.)
In 1779 our Robert Walker bought land at Richmond, and moved to the new Surry County Seat, shown at the top left. I suspect his sons continued to farm in the old area, but haven't confirmed.
The 1771 Survey Line:
I'm a bit fuzzy about exactly where Robert's house was on the 1771 survey. Let me quote part of the surveyor's description, and see if you can work it out. The surveyor is starting at a point on the Eastern boundary of the county, and working west:
"Beginning again for the dividing line between Rowan and Surry at the aforesaid Post Oak, running west crossing a branch of Dan River East of Robert Walkers Esquire, thence East of his house about one-quarter of a mile, crossing the easternmost Branch of Muddy Creek, thence through the Moravian Tract, crossing the fork of the road that from Bethabara (to) Salsbury and about one and half mile from Bethabara, then crossing the Moravian Mill Creek at 2 and half mile from said roads, crossing Muddy Creek at about six miles from said roads at 2 miles to Christopher Smiths Plantation, thence through George Robinsons Plantation and his yard to a mulberry house in Rowan thence crossing the Shallowford* Road at two oaks, the one marked Rowan and the other Surry, thence about 5 mile to the Yadkin through Benjamin Stewarts old field on the N. degrees bank of the Yadkin, crossing Yadkin by Joseph Gentrys land about a quarter of a mile above his house in RowanÉ" *(See later discussion about Shallow Ford!)
The full two-page description can be examined, see SurrySurveyP1 and SurrySurveyP2.
The People:
If you look at the pages in the Surry Court Notes, you will see that most of the pages are annotated by colored highlights. These colors will help you spot the references to our ancestral relatives, as follows:
Robert Walker, Esq.:
NOTE: IF you want to actually LOOK at the Surry Court minutes about Robert, continue farther down. But if you just want to read about him with interpretation from these minutes, examine the following:
My family tree summary for Robert at
www.coffey.ws/FamilyTree/Docs/WALKERRobert(W).htm
A more detailed examination of Robert at
www.coffey.ws/FamilyTree/FamilyNotes/AboutRobertWalkerEsq.htm
His relationship with the Moravians at
www.coffey.ws/FamilyTree/FamilyNotes/RobWalkerAndTheMoravians.htm
His entries in the Surry Court minutes are highlighted in RED. Robert is my GGGGG Grandfather, and the first member of our Walker family to come to America. He ultimately became a commissioner/justice on the Surry County Court, and there are MANY references to him. He is often referred to as "Esquire", a term of respect showing his connection to the legal profession.
What did an "Esquire" do for the County Court? Here's a preamble from a court paper filed when Robert was sitting (obviously, the court reporter got paid by the word):
"09 Nov 1771 (CR092.326.17, Surry Co., NC Criminal Action Papers)
"At an inferior Court of Pleas & quarter Sessions begun and held in & for the County of Surry on the Third Sunday of November in the twelfth year of the Reign of our Sovereign Lord George the third by the Grace of God of Great Britain France and Ireland King Defender of the Faith & Before the Worshipful Jacob BONN Charles MCANALLY Gideon WRIGHT and Robert WALKER Esquires and others their Companion Justices assigned to keep the Peace for said County and also to hear and determine all Petty Larcenies Trespasses, Assaults Batteries Crimes and Misdemeanors of an inferior Nature Whatsoever committed or done in the County aforesaid. The Jurors for our Lord the king upon their Oath present that . . ."
The earliest notes are from Rowan County, the predecessor to Surry. Robert's references give him license to keep a tavern in his house (P81, P95), register his stock marks (P117), and see to his civic duty to help oversee county roads (P90).
(I couldn't personally find the description of his stock marks, but another researcher reports: "Rowen Co. Court Records: 1771 Robert Walker Mark is sloping crop of each year (ear), one on the four side of the left year and the other slops back side of the right year & Brand is R3 on the right shoulder and buttocks.")
When we get to the Surry Minutes, there are a huge number of entries that simply show him sitting on the court (P1, P2&P3, P7, P8&P9, P11, P15, P16, P18&P19, P21, P25, P26, P28, P30, P34, P44&P45, P46, P50, P52, P57, P64, P70, P78, P80, P82, P84). There are other mundane entries such as his participation in maintaining roads (P12, P14, P19, P23, P33, P37). He has a few real estate transactions (P19, P90, P96). He helps settle the occasional estate (P43). He sues some people (P76), gets sued (P92), and exchanges slander accusations in court (P85). He serves on a jury (P79), and appears to help with some sort of a census (P88).
He gets a variety of curious jobs, such as getting appointed County Coroner (P21) and a Tax Commissioner (P45, P46). He makes sure the town Stocks and Whipping Post are kept in order (P9), and helps manage prisoners in the county jail (P75). He levies a fine against one of his associates for swearing and speaking in contempt of court (P82).
He and his wife take in an orphan girl, age 7 (P67).
He even gets in trouble with the court, over his treatment of an indentured servant boy (P22) – and it's a VERY brave boy who takes on his master in the master's own courthouse! Robert promises to do better.
And of course he has to keep the license on his tavern current (P14, P31). And as soon as he dies, his Widow Mary immediately makes sure the license is in HER name (P96).
When he dies, his replacement is named (P95), his Last Will and Testament is proved (P96), and his estate appraisal is returned (P104). Some of his estate matters come up at later dates (P115, P123, P166), including guardians for his minor children (P131). And I suspect one or more of his land grants may have been questionable (P134).
Robert Walker, Jr.:
See Robert's summary for my family tree at www.coffey.ws/FamilyTree/Docs/WALKERRobert(W).htm .
His entries in the Court Minutes are highlighted in BLUE. Robert Junior is the oldest son of Robert Walker, Esq., and he is my GGGG Grandfather. Most of his entries (P10, P12&P13, P17, P24, P33, P53, P69, P73) are for the mundane entries of an ordinary citizen – he didn't lead a very exciting life.
But don't be too quick to write him off, based on just the above entries found in the Surry Minutes Index: After his father died, he wasn't "Junior" anymore! Examination of the context will show that there were MORE entries for him (see P96, P107, P110, P119, P128).
Robert Walker's Other Sons:
Their entries are highlighted in VIOLET. Robert Walker (Esq.) had four other sons after Robert Jr., named William, James, David and John. They all appear in the Court Minutes. (James, David, and John only appear after Robert Sr.'s death, as they were too young before then. They were possibly the children of his second wife.)
There are so many entries (particularly for William), and they're just GGGG Uncles, so I haven't done hyperlinks. You can find them in the Directory if you're really interested.
Daniel Huff, III:
Daniel Huff III is another "uncle", and not an ancestor. He is the son of Daniel Huff Jr., who was my GGGGGG Grandfather. His sister was the mother of Robert Walker Jr's wife Mary. His entries are marked in AQUA (CYAN?).
James Coffee:
His entries are marked in GREEN. He was a Constable in the County. I know he is not an ancestor, but he is related. He's my "1C6R" (First Cousin, six times removed).
James Coffee caught my attention for a variety of reasons, and he has become the subject of separate research. You can learn more if you click here on JamesCoffee:
This link tells James' whole story, including the Surry County Minutes entries.
Catherine Arney:
Her entry is marked in PINK. She is my GGGGGG Aunt, the daughter of ancestor Jacob Arney (1728-1782), and the sister of ancestor Johann Heinrich Arney (1755-1830). This find was a surprise. I knew that some of my Arney ancestors lived in Surry County at about this time, but they generally kept a very low profile. The "Arneys" were German immigrants, of the Moravian religion (see P19 for a curious note on their taxation), and presumably spoke only German.
But Catherine's father died in about 1782, and her mother apparently also died in about 1786, leaving 12-year-old Catherine an orphan. That was a matter to be dealt with by the Court (P101). She was bound out to John Doub, for whom I was able to find a genealogy. John was a German, who came to America in 1773, and who lived in Bethania.
Another record that I found elsewhere says that Catherine's brother Peter, age 15, was bound as well, to a John Fullenwider.
(One might wonder why these children were not taken in by their brother, our ancestor Johann Heinrich "Henry" Arney, who lived only 10 miles to the north of Bethania. Part of the answer might be that by this time Henry and his wife Magdalena already had SIX children of their own, all under the age of 10, and two more could make for a VERY crowded house! Further, the families who did take them in would have been members of the community and probably close friends of their parents.)
Adam (son of Andreas) Fulk:
His entries are marked in BROWN. His full name was Johann Adam Fulk, and he is my GGGGGG Uncle, the son of my GGGGGG Grandfather, Andreas Fulk Jr. Andreas is probably also there (P95), recorded as "Andrew VOLK". You can read about ancestor Andreas at www.coffey.ws/FamilyTree/Docs/FULKAndreasJr(W).htm.
Marmaduke Kimbrough:
I strongly suspect this guy is my GGGGG Grandfather – but I can't prove it yet. So I haven't marked his family entries in the Surry Minutes.
For a long time I have searched for the family of the wife of my ancestor William Walker (son of Robert Jr., grandson of Robert Esq). Her name was Catharine "Kimbrel". When Catharine died, William married Rachel "Kimbull", whom I think was actually Catharine's sister and really a Kimbrel. Further, William lived next door to another family headed by one Joseph Kimbrel. Catharine, Rachel and Joseph all clearly came from North Carolina.
Kimbrel – Kimbull – Kimbrough: They sound alike, and people in this era were not strong on consistent spelling. And when William Walker was growing up, he would have been surrounded by members of this large Kimbrough family. And I can demonstrate that they lived within only a few miles of each other.
I've been working on a detailed analysis of the possible connections. You might look at:
www.coffey.ws/FamilyTree/FamilyNotes/KimbrelConnection.htm
"Interesting" Entries:
These are marked in GOLD. Reading through the notes, I found many entries that caught my attention because of their historical references, or just because they were novel.
Money:
A question of particular interest was the value of money. These minutes were written during the American Revolution, and we're talking about a Continental currency (i.e., the phrase "Not worth a Continental" was applicable). I tried to find an indicator of value, and one of interest is the amount the County paid tax assessors for a day's work: In August 1779 the daily rate was set at 5 pounds. In August 1780 it was 10 pounds. In August 1781 it was 20 pounds.
By 1786 things had settled down, and values were more back to normal.
Why was this of particular interest? In November, 1785, GGGGG Grandpa Robert, presiding over the County Court, fined one of his fellow justices 5 shillings for "swearing and speaking in contempt" (P82). Was this a serious fine, or a joke?
The best measure of comparable value may be in Grandpa Walker's official Tavern rates. That "5 shillings" would have been enough to buy one of Robert's guests (1) dinner with hot roast, accompanied by (2) a half-pint of rum, plus (3) a night's lodging with clean bed and sheets, plus (4) a plain breakfast (tea or coffee would be extra). (P109)
(I would be nearly certain based on the "hotel" standards of the time that the "clean bed and sheets" would be in a shared room - - and the bed itself might even be shared!)
Orphans:
One of the frequent activities of the Court was to deal with orphan children. General practice was that the children were "bound" out to another family - - this was their version of foster childcare (and possibly a source of cheap labor). In an era of short life expectancies, the incidence of orphans was all too frequent. (See Page67 for a case involving Robert and Mary Walker. See also Page22 for a possible connection.) Most of the time, this "bondage" was probably a reasonable solution for tough times. The "Terms of Indenture" often provided that the orphan was to receive a certain level of education, and learn a trade.
Jane Scott, and her "Orphan" Children:
This complicated and troubling case caught my eye, and my investigation expanded. I kept learning more, and finally created an entirely separate report with my findings. Please check the link to StoryOfJeanScott!
Education:
Some of the entries stimulate additional research, and there are in fact several explorations I want to pursue someday. There are many terms I don't understand.
One such entry cropped up in instructions that an orphan was to be taught to cipher (do mathematics) up to the "rule of three" or sometimes up to the "double rule of three" (See example Pg42). I learned from one source that "Éthose who could write a legible hand and perform an example in 'Double Rule of Three' were looked upon as having a good education."
I finally learned that "Rule of three", in 18th century mathematics, meant that if you were given three terms, you could find the fourth. For example, you could solve the problem "If 6 yards of cloth cost 20 dollars, what will 20 yards cost?"
And "Double Rule of Three" meant that given five terms, you could solve for the sixth. In other words, you were capable of working the problem "If 7 men can build 36 rods of wall in 3 days; how many rods can 20 men build in 14 days?"
(I can solve either of these in seconds using ratios or algebra. However I read a description of the 18th century solution procedure, and could not comprehend what they were saying!)
Lewis Carroll, who wrote the Alice in Wonderland stories, was a mathematician at Oxford. He writes about it in his "Mad Gardener's Song":
He thought he saw a Garden-door
That opened with a key:
He looked again, and found it was
A Double Rule of Three:
"And all its mystery," he said,
"Is clear as day to me."
The Revolution:
The Court Minutes contain several references to legal actions against the "Tories", those who were loyal to King George III during the American Revolution. Was Surry County actually impacted by the actual fighting of the war?
Yes indeed, there was fighting in the County. In fact there was a minor skirmish in Richmond, where Robert Walker lived. For background, have a look at the following map, which covers that part of North Carolina during the revolution:
<![if !vml]>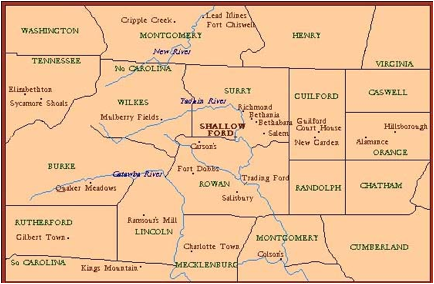 <![endif]>
One of the major campaigns of the war occurred in 1780 and 1781, when the British General Cornwallis decided to run down the revolutionary General Greene, and began to chase him through the Carolinas. Greene played a clever cat and mouse game, leading Cornwallis farther and farther from his supplies.
An early conflict was at Kings Mountain, South Carolina, on October 7, 1780. That is near the bottom left of the above map. Our ancestor, Robert Walker Jr., fought with the North Carolina militia at that battle and was wounded.
A week later another conflict occurred at Shallow Ford, in Surry County. I'll come back to that in a moment.
Cornwallis' forces backed off after the above two battles, but in early 1781 he came after Greene again. Finally, Greene decided he was ready to take on Cornwallis with his full force. They fought a battle in Guilford County - - the next county to the East of Surry. On March 15, 1781, Cornwallis's force of 2,000 British regulars drove Nathanial Greene's American force of about 4,000 from the field at Guilford Courthouse, N.C. However while he won the field, Cornwallis lost about a fourth of his army and was forced to retreat to Wilmington, N.C.
(By the way, on the map above you will see a place "New Garden" just to the south of the Guilford Court House. This was a very early Quaker meeting place in NC. The wife of Robert Walker, Jr., Mary Jones, was from New Garden, and her parents would have still been living there.)
But now, let's turn back to the battle of Shallow Ford, which not only took place in Surry County, but involved a skirmish in Richmond, where Robert Walker lived. Here is a summary of the battle:
The following is taken from
http://bellsouthpwp.net/w/h/whigkid/shallowford/battle.html
There is also an "Historical Fiction" first person account at
http://www.earlyamerica.com/review/spring97/shallowford.html
The Battle of Shallow Ford
October 14, 1780
"In the days of early fall, 1780, the Patriot forces in North Carolina were demoralized by heavy losses in South Carolina and British General Lord Cornwallis' advancement to Charlotte. Many fled to Virginia ahead of the British. Patrick Ferguson, one of Cornwallis' Colonels, had moved into western North Carolina, raising Tory support for his army.
"The Patriot forces prepared to meet Col. Ferguson. Most of the Surry County militia, along with other North Carolinians, rendezvoused at Quaker Meadows (near Morganton) on September 30th. They were joined by "over the mountain men" from Virginia and Tennessee. They expected to find Ferguson near Gilbert Town (Rutherfordton), but did not catch him until they reached Kings Mountain on October 7th.
"In Surry County, in the absence of the local Whig militia, the brothers and Colonels Gideon and Hezekiah Wright* raised a large band of Tories which finally may have reached a number as high as 900. On October 3rd and 8th, they attacked Whig targets in the town of Richmond, the County seat, where they killed the Sheriff of the County. Patriot intelligence believed that the local Tories intended to join Lord Cornwallis' forces in Charlotte. Patriot General William Lee Davidson, near Charlotte, sent out a company of 52 under Andrew Carson to meet the Tory forces in Surry County. General Jethro Sumner, near Salisbury, dispatched two companies of 30 men each under Captain Jacob Nichols and Captain _____ Miller. Those Whigs who remained in Surry County gathered and joined the arriving Patriot forces.
*(Memo: Gideon and Hezekiah were active in the Surry Court minutes, and Gideon was also a commissioner, who sat with Robert Walker. See yellow marks on page 1 of the Surry minutes!)
"Four companies of Patriots, numbering about 160, from Montgomery County, Virginia, under Maj. Joseph Cloyd and Captains Henry Francis, Isaac Campbell, George Parris, and Abraham Trigg had followed earlier troops headed to meet Col. Ferguson. When they reached western North Carolina, they learned of Ferguson's defeat at Kings Mountain, and were redirected to Surry County. These four companies from Virginia (about 160 men) joined with the first three companies sent out from Charlotte and Salisbury (about 110 men) and with the local Surry county militiamen who had not pursued Ferguson (about 80 men). On Saturday morning, October 14th, about 9:30 a.m., this force of 350 men were on the west side of a small stream, now called the Battle Branch, near the Shallow Ford crossing of the Yadkin River.
"Suddenly they saw the head of the Tory force which had threatened the county for the past weeks. Numbering between 400 and 900, they had crossed the Yadkin and were moving westward on the Mulberry Fields Road. Both sides hastily formed and fired several rounds at each other. The Whigs, though outnumbered, quickly gained the advantage. Captain (James?) Bryan, of the notorious Tory Bryan clan, who led the Tory forces, was quickly killed, along with 13 others. The Tories retreated pell-mell back across the Yadkin, shouting "we are whipped, we are whipped." As they were well mounted, they made good their escape. Captain Henry Francis of the Whigs lost his life, and four others were wounded. The battle probably lasted about 45 minutes.
"When reports of the Tories had worsened, General Sumner (near Salisbury) had dispatched an additional 300 militiamen under Col. John Peasley. They arrived at the close of the battle, as did Col. Joseph Williams of Surry County, who had heard the rifle fire from his nearby home. Captain Francis was buried on the battlefield. The dead Tories were buried in a separate common grave. The 4 wounded Whigs and 1 wounded Tory were cared for by a Moravian physician and his assistant, first in the area of the battle, and then in Bethania, where they were taken to recover from their wounds. Over the next several days the Patriots went to the Moravian towns (Winston-Salem), cold and wet from rains that began late on the 14th. General William Smallwood with his troops, also in search of the Tories, arrived in the Moravian towns and was elated to learn of the Patriots' victory. Within several days, most of them left for home.
"On October 19th, the Field Officers of the Patriots held a Council on nearby land owned by Abraham CRESON. The Council directed that all those who had supported the Tory cause be offered a pardon, upon meeting specified conditions. Many availed themselves of this offer.
"News of the victory at Shallow Ford spread quickly, and greatly encouraged the Patriots. After the defeat at Kings Mountain, Lord Cornwallis retreated from Charlotte. The victory at Shallow Ford dispersed the Tory force that had formed in Surry County, and they never again gathered in such numbers.
"The Battle of Shallow Ford has long been overlooked by historians. Recent research shows that, at the time, it was a significant victory for the Patriot forces. Occurring exactly a week after Kings Mountain, these two battles turned the tide of the War for Independence in North Carolina to the Patriots' advantage.
© 1994 Ann Brownlee. This page was created on December 1, 1996 by Ann Brownlee. Last revision January 26, 1998.