Introduction
The Coffey / Walker / Lehman / Bellas /Teele Families
By Fred Coffey (Contact: FredCoffey@aol.com, or phone 508-573-1372)
Welcome to the Coffey / Walker / Lehman / Bellas / Teele Family Tree. If you've been here before, following are the common entry points:
CONTENTS SURNAMES INDEX HOMECARD DNA SITE MORE
If you've just popped in to look for info on a specific person, you might try Surnames or Index. If you just want to browse, you might start with HomeCard. (There's also a collection of miscellaneous papers I've written on family genealogy topics, click above on "MORE".)
BUT DON'T MISS IMPORTANT INFORMATION!!
The system is based on finding and moving among what are called "Web Family Cards". From any card, you can move UP the tree by clicking on selected Parents. Or you can move DOWN the tree by clicking on selected Children.
What may not be obvious is that you can also click on the name of the person (i.e. the husband or wife). That opens another page called a "Person Sheet" that may contain more information on that person. From there, you should ALSO look for a line or section called "Misc. Notes", and see if it suggests "Click on this link for more info on this person; ", followed by a hyperlink address. If that is available, click again.
This last "click" will load a biographical report discussing the person of interest. There are hundreds of pages of these notes in the system! (Hint: Want to print that report? The file will load as a web page with the ".htm" extension. If you go to your browser and change this to ".pdf" you should get a better-formatted printout.)
And then of course you can use the "back" arrow on your browser to return to where you started.
In addition, note that on the Web Family Cards there is usually a little green tree image beside the name of a person. Click on that, and it shows a 5-generation ancestry tree of the person. Click on any of the names in that tree, and that will become the home person of the tree. Click on the home person, and you'll go back to the Family Card view.
Important: Everybody is indexed with the name they were born with, i.e., maiden name for female ancestors and cousins. I remember my grandma as Linnie Walker, and after she remarried as Linnie Northrup, - - but she was born as Linnie Machlan and that is how she is indexed. (If I couldn't remember her birth name, I might have better luck looking for grandpa Everett Walker, the (first) man she married.)
PRIVACY:
This is a public tree, and anybody is invited to look. However it excludes details on living persons, including names, dates and biographical notes. For example, if you click on "Homecard", you will see the principal persons are "Living COFFEY" and "Living LEHMAN". Those people are actually myself and my wife, and that's all you get to see. But you can move UP the tree to our parents, and see everything I know about them.
If you are a trusted family member (say second cousin or closer?) you might ask me for a source that contains the full tree, with no details omitted.
THE BIG FAMILY PICTURE:
The title calls this the "Coffey/Walker/Lehman/Bellas/Teele" tree. Those are the five major branches of the family. I've organized it this way to help sharing with my close cousins - and Walker cousins (my mother was a Walker) wouldn't care about the Coffey branch, and so on.
If you're a browser, start with the HomeCard above. From there you can see parents with Coffey, Walker and Lehman names. Click there, and you should be on the branch of interest. And my Coffey first cousins, for example, can mentally substitute their own parent for my father, and move right on up the tree! If you're looking for the Bellas branch, click down on my first child identified as "living Coffey" and you'll discover he first married a "Bellas". Then you can move on up that branch. And if you look toward the bottom of our son's card, you'll see "Spouses: 1, 2". Click on the "2", and you're ready to start up the Teele tree.
Now, the Lehman and Bellas branches are small, and there's no way to get lost. But the Coffey, Walker and Teele branches are HUGE, and it's very easy to get lost as you click about. So I offer three road maps (LARGE FILES, up to 2.1 MB size):
Click here on the names COFFEY or WALKER or TEELE and you will access one of three "PDF" pedigree charts (Multiple pages: Coffey = 40 pages, Walker = 44 pages, Teele – 58 pages). The pedigrees start with my father Leo COFFEY, with my mother Elsie WALKER, or with Louis Gardner TEELE. Print or view one of these, and you'll have a very good layout of the family.
INTERESTING PEOPLE AND INTERESTING TRIVIA:
Now, there are lots of interesting people in this tree, and I want to introduce you to some of those I found most fascinating. But I know that if the reader is a "Coffey", he's not going to find the "Walker" people so interesting. So let me offer a way for cousins to spot the ones they want to learn about:
For some of the discussion that follows: If you're a "Coffey", you're a "C"
If you're a "Walker", you're a "W"
If you're a "Lehman", you're a "L"
If you're a "Bellas", you're a "B"
If you're a "Teele", you're a "T"
Combos are allowed. My sisters and their families are "CW". My daughter is a "CWL". My grandson is a "CWLB".
NOTE: Most of the following people notes are DIRECTLY hyperlinked to their Biographical Notes. If you want to explore up or down the tree from there, you'll have to come back to here and look them up in the Surname Index (see above). The Teeles, however, can immediately move up and down without coming back here.
A WORD OF CAUTION:
I don't "guarantee" any of the relationships shown herein. There's always work to be done to verify data. See later discussion regarding methodology and future plans.
The Names:
I call this the "Coffey – Walker – Lehman – Bellas - Teele" tree, because those are the names of the living persons investigated. However there are of course hundreds of other family names involved in each of their ancestries.
Here are some statistics you might find interesting: In the 1930 USA Census there were 225,870 persons using the "Walker" name, 16,980 using "Lehman", 14,713 using "Coffey" (not counting 3,707 using "Coffee"), 759 using "Bellas", and 424 using "Teele". (That's not counting a number of people who got their names spelled wrong by the census taker.)
In the 1990 census, Walker was #25 in the list of most frequently used surnames. Coffey was #850, Lehman was #1186, Teele was #34,586, and Bellas was #41,351. Obviously, the Coffey families are more prolific than the Lehman families, since we overtook them between 1930 and 1990! But we'll NEVER catch the Walkers! And if you're a Teele or Bellas, you're almost unique!
Who Got Here First?
You always hear about the Pilgrims – but they were NOT the first settlers in the new world. The Jamestown Colony in Virginia was founded in 1607, beating the Pilgrims by 13 years. No, none of our ancestors were on the first boat to Jamestown – our ancestor waited until the "second supply" voyage, which arrived in 1608. We find "Gentleman" Thomas GRAVES (W) arriving on the ship "Mary and Margaret" in 1608. He was an influential man, and active in the affairs of the Colony. However the title "Gentleman" probably indicated he considered himself above the "hard labor" of being an early colonist – and the surplus of "Gentlemen" versus "Workers" was an extremely serious problem in early Jamestown!
There is a CHANCE that an ancestor on the Coffey side arrived at about that same time as Thomas. We can trace our ancestry back to a Thomas ROBINSON (C) who was found in the Virginia Colony in about 1690, and there was a "Gentleman John Robinson" who was an original settler. However "Robinson" is a too common name, and so far nobody has been able to prove the connection.
Another early arrival in Virginia was George TRUITT (W), who got to the colony in 1640 and who married Frances, the daughter of the above Thomas GRAVES.
Pilgrims and Puritans:
The Pilgrims were late-comers, but did finally arrive in 1620 on the Mayflower. I haven't found any "Mayflower" ancestor, but the Puritans were right behind them, and settled the area around Boston. And the "Teele" lines trace their ancestry back to dozens of these early immigrants – but I don't know who was first.
The Dutch at New Amsterdam (now New York City):
The settlers of New Amsterdam, which became New York, were close on the heels of the Pilgrims, and we have ancestors arriving on the first ship! The very first "Coffey side" family ancestors to arrive in America were Joris Jansen RAPALJE (C) and his wife Catalina TRICO (C), who arrived in 1623. And the very first child to be born in America was their daughter Sarah Jorisen RAPALJE (C). And on the same ship with Joris and Catalina, were Adrienne and Guillaume VIGNE (C). (That name is pronounced "vin-yeh", and means "vine" in French - bet you didn't know that a lot of the New Amsterdam settlers were actually French Walloons!) There's lots of good reading for these people.
Hans Hansen BERGEN (C) arrived from Norway in about 1633 and married the above Sarah. There are now a huge number of people with the "Bergen" family name, and they've written books about Hans and his descendents. There are a LOT of notes about Hans.
Other early immigrants were Adrian Hendrickse ATEN (C), who arrived from Holland in 1651, and Michael DEMOTTE (C), who arrived by 1665. The files on each of these have items that make interesting reading.
Meeting Native Americans (Indians):
See in particular the files about the above New Amsterdam people. A careful reading will show several aspects of the settlers' relations with the Indians - - some not reflecting very well on the whites involved. Better received was George TRUITT Jr. at Jamestown – he and his father were Quakers, and the Indians respected the Quakers because they treated them fairly.
But it's the TEELE ancestors that really tangled with the Indians. In 1675 and 1676 the colonists were engaged in a major conflict with the area's Native American inhabitants, known as "King Philip's War". Proportionately, it was one of the bloodiest and costliest wars in the history of North America - 800 out of 52,000 English colonists (1.5%) and 3,000 out of 20,000 Native Americans (15%) lost their lives due to the war (per Wikipedia).
On 24 Jun 1675 there was a skirmish at Swansea, and Robert JONES, (T), along with his son John and his son-in-law Joseph Lewis, were all killed and scalped by Indians. On 2 Aug 1675 Shadrack HAPGOOD (T), then a resident of Sudbury, was killed in an ambush along with 7 other colonists. Shadrack was age 33, and had 5 children under age 10. And on 18 Sep 1675 James TUFTS (T), and as many as 90 other colonists, were killed at the "Battle of Bloody Brook". The dead were buried in a mass grave. James had one illegitimate son, James Jr., whose mother had previously died. Orphan James Jr. was raised by his grandfather Peter Tufts (we'll meet Peter in just a moment). On 19 Dec 1675, Gershom CUTTER (T) and John HARRINGTON (T), fought in the battle known as the "Great Swamp Fight" against the Narragansett in Rhode Island. Harrington also fought in other battles, and was twice wounded. Another involved ancestor was Lieut. Nathan FISKE (T), but no one seems sure what he did to earn "Lieutenant" rank.
Church Politics:
In 1727, Teele ancestor Jonathan HALL (T) was not pleased with the hard benches in the Medford, Massachusetts church, and after negotiations he and 24 other gentlemen were able to arrange for new, assigned pews. Based on the order by social rank, Jonathan got pew numbers 14.
Vendors of Strong Spirits:
There were actually several Teele ancestors living in the town of Medford, in addition to the above Jonathan HALL. And several of these were conscientious about OTHER community needs besides the Medford Church - Samuel WALKER (T) wanted to fill another such community need. In 1662 he petitioned the town for license for "stilling strong waters" and to allow "retailinge of Liquors… by ye quart". Other ancestors, Francis KENDALL (T), George REED (T), and Thomas PEIRCE (T), signed the petition for this much needed facility. And there were also several other uncles and cousins who signed. The petition was approved.
On the Coffey/Walker side, many of my more recent ancestors would have never allowed alcohol in their house. But going back in time we find a different view. We find a few ancestors who, in their estate inventories, attached significant value to their stills and tubs. And we find that Robert WALKER Esquire (W) in 1769 "… hath obtained a License to Keep A Tavron on his Plantation where he livs." He renews his license regularly, and when he died in 1786 court records show the first to appear before the Court was his wife Mary, who wanted leave to continue to keep the Tavern operating at her home.
Witchcraft?
Everybody knows that the early settlers of New England were quite serious about their belief in witchcraft, as evidenced by the Salem Witch Trials of 1692. And one of the Teele ancestors, Peter TUFTS (T), gets a mention. The Salem record reads: "peter Tuft of Charlestown also appeared before us Salem June 2, 1692 and also Complained against both ye aboves (Elizabeth Fosdick & Elizabeth Paine) for acts of Witchcraft by them Committed on his negro Woman". Note, however, Fosdick and Paine were NOT among those convicted or executed. Also of possible interest if you visit the Boston area, Peter Tuft's house still stands in the suburb of Medford, and some historians consider it to be the oldest all-brick house in the United States.
There were earlier witch trials, and even executions, before Salem. Of particular interest is a trial in 1659. At this time Matthew BRIDGE (T) gave evidence in support of the poor defendant, Winifred Holman. Also Matthew's wife and parents signed statements that she was innocent. They were respected members of the community, and she was acquitted.
A Murder?
Reports are that my GGGGGGG Grandmother, "Sarah", the widow of John BLAGDON, (C) disappeared mysteriously, and was declared murdered in 1688 in Virginia. Suspects were taken to court, but the case outcome is not known.
A Riot?
Another ancestor, Salathial Coffey (C) also appears to have died a violent death in 1784. Hints in court records suggest there was a riot, or some sort of civil disturbance. But none of us have figured out the details.
The Walker Branch Germans:
A significant branch of our family on the Walker side is of German origin. While "Walker" (my Grandpa Everett Walker) and "Machlan" (Grandma Linnie Machlan) are probably Scottish names, the Machlan side of that family married with the Arney and Mann families. These are German names, as are others found on their branches - such as Herman, Earlywine, and Fulk.
These Germans are also sometimes called Palatines, based on the region of Germany they came from. Or they are sometimes called Pennsylvania Dutch (who are from Germany, not Holland) based on the region where they first settled in America. And some may have originally been Swiss, with the families simply passing through the Palatinate of Germany.
You can read about the story of one German branch, and learn about all of them, in my files on the Mann and Herman families. Read the following underlined files IN ORDER for the continuing story. The original immigrants were the families of Jacob HERMAN and of the Mann Family (W). The two families were close, and settled together in "Pennsylvania Dutch" country in Lancaster Co. Pennsylvania area, where many of their children were born. The two families then moved together to a German settlement in the Shenandoah Valley of Virginia. There ancestor Jacob MANN married Elizabeth EARLYWINE (from another German Palatine family), and they then moved their family to Indiana. There Jacob's daughter Elizabeth Ellen MANN married George Washington MACHLAN, finally connecting our German and Scottish branches. George and Elizabeth then moved to Iowa.
The Revolutionary War:
Everybody recognizes that New England is where the American Revolution got its start, particularly at the battle of Lexington and Concord: Private Jonathan TEEL (T) and his older brother Gersham were there at that battle in 1775. And Ammi CUTTER (T) and a group of the "Old Men of Menotomy" were on hand to ambush a convoy of British supplies on their way to that battle. Josiah BEMIS (T) was a bit old to fight, but he furnished money to the cause – and his son Josiah Jr. participated in the Lexington Alarm. And Ephriam FROST III (T) joined in later service. Any of these should qualify their descendants for membership in the DAR (Daughters of the American Revolution).
The Coffey families also have several who fought in the Revolutionary War, or otherwise served as patriots. See Adrian ATEN (C), who supported the revolution from his "plantation" in New Jersey, and who "had three sons who fought". One of those sons was our ancestor, Private John ATEN (C). Others who we are sure actually did some fighting include Capt. John Hathaway (C), Pvt. Henry KIVET (C), Pvt. Nathan COFFEY (C), Jesse BARBRE (C), and Sgt. Matthew MCGLASSON (C).
On the Walker side of the family, you will find that Robert WALKER Jr. (W), Thomas GRAFTON (W), and George EARLYWINE (W), were involved. And of special interest is Peter ALEXANDER (W) who gave testimony at his pension hearing in which he described his personal experiences! But not everybody was on the side of the revolution - - Samuel TRUITT (W) and his sons were all Tories and faithful to the King!
Private Matthew HILLIS (C) also served with the patriots, but in addition his story makes interesting reading because he took on George Washington in a land dispute AFTER the war! (It's unproven, but Matthew and other neighboring ancestors were probably also giving poor George grief in the Whiskey Rebellion of 1794.)
If you think you might be interested in joining the Sons of the American Revolution (SAR) or the Daughters of the American Revolution (DAR), you should have little trouble. We have a cousin Timothy E. PETERMAN (he's my "quadruple third cousin, once removed" - - Fred) who is the Membership Secretary & Registrar of the Kansas Society SAR, and he would be delighted to help you get started. Read the text attached to his sheet/link for what he has already done and how he can help. (He is a "C" cousin; you "W" and "T" cousins may have to develop your own proof.)
Slaveholders and Abolitionists:
Slavery? Certainly not in my family! At least that is what I believed most of my life - - it was inconceivable to me, growing up in a northern state (Iowa), in a family that knew nothing of their ancestry any farther away than Illinois.
But then I got interested in genealogy, and began to look farther back in time, and began to learn to use records like wills, census, tax lists, and court records. And a different picture came to light.
To date I have found 27 ancestral families that owned slaves. Eighteen of these families were on my father's side (Coffey, and the families they married), and nine were on my mother's side (Walker, and the families they married).
I was dismayed to learn how many ancestors were slaveholders. But so then were George Washington and Thomas Jefferson - - it was simply not seen as a moral issue in their lifetimes. Also, by the time of the civil war, all of MY ancestral families had relocated north of the southern and border states, and were all solid "Yankees".
I can provide a list of slaveholder families to anyone who wants it. However I think it is more interesting here to talk about some of the branches of the family that were apparently internally conflicted:
One contrast is on the Coffey side: Various federal census reports, and his estate inventory, show that the Eli COFFEY (C) family in Kentucky owned several slaves. However Eli's son Newton Eli COFFEY (C), left Kentucky for Illinois because of his feelings about slavery, and worked for the election of Abraham Lincoln.
The oldest known Walker ancestor, Robert WALKER (W), owned several slaves. However his son Robert Walker Jr. (W) became a Quaker, and as far as I can determine never owned a slave. (I'll talk about the Quakers shortly – while they did not prohibit slavery, they were commonly found in the ranks of those opposed.)
And there was also slavery in Massachusetts, and it persisted through most of the 18th century. However there was also a significant free black population. We suspect involvement of at least one ancestor - we must be suspicious about the previous statement (see above) by Peter TUFTS (T), speaking at the Salem trials of "…Witchcraft by them Committed on his negro Woman". The choice of words does not imply a free relationship?
A few of the other connections to slavery will be picked up in the next two sections below.
Found one Teele line ancestor, Abner G. TEELE Sr., (T) who fought in the Civil War. I have not yet found records of any Coffey/Walker ancestors who fought - a quick survey does not reveal any that were of the proper age at the proper time. However one can find a few distant uncles (siblings of our ancestors) who fought. Samuel Harrison ATEN (C), a son of ancestor Aaron Kimble ATEN, fought in the Illinois 3rd Calvary. Also Jacob MANN (W) had two sons, Willis and John, who fought in the war. John was killed on May 18, 1863, fighting with the 18th Regiment of Indiana Volunteers.
Apprentices and Indentured Servants:
It was not uncommon for a relatively wealthy person in America to sponsor another later arrival, paying his passage in return for a specified number of years of servitude. While these indentured servants were often treated as badly as slaves, it is not really a comparable situation – simply because their term of service was contractually limited.
John HOUGH (W) and his wife arrived with an entourage of five servants, each indentured to serve him for 4 years or until age 21. Hans Hansen BERGEN (C) named earlier, was also noted as having received what appeared to be indentured servants.
On the other side of the equation, William MCGLASSON (C) came to this country in the early 1700's, as an apprentice to a carpenter. Likewise Hugh SMITHWICK (C) and Giles VERMILLION came as an indentured servants. And look particularly at the story of Edward COFFEY, who came to America as an indentured servant. Edward MAXEY (W) had his passage paid in about 1690, in return for which his master got 50 acres of land and five to seven years of Edward's hard labor.
I would note that MCGLASSON (C) and MAXEY (W), after their servitude was completed, went on to become slave owners.
There may also be a grey area involving children – orphan children were often "bound" to other families. Depending on the circumstances this could be viewed as either a system of foster childcare, or a source of cheap servants. When our ancestor Mary "Polly" KIVET (C) was four years old her father Jacob KIVET (C) died. And then her mother Mary "Polly" BROWER (C) also died about 3 years later. Polly and her five siblings were left as orphans. The four youngest children (including Polly) had an uncle appointed as their "gardian" and authorized to "bind them out as apprentices". (The two eldest of the orphans, at ages 11 and 13, were allowed to make their own choice of other guardians.)
The Quakers:
Let me next address the ancestors who were members of the Society of Friends, better known as "Quakers".
On the Coffey side, only Peter KIVET (C) and William E. Aldridge (C) are identified as heads of Quaker families. And Peter is the only Quaker I have found that appears to have also owned slaves.
Most of the Quaker Families were on the Walker side. Some of these come with interesting stories:
In 1653 George TRUITT (W) was convicted of fornication, which probably occurred because his Quaker marriage was not recognized by Virginia, and therefore, according to the government, he was living with an unmarried woman. George was a very strong Quaker, living in a time when Quakers were a persecuted minority. His son, George TRUITT Jr. (W) was also very active. Neither of them ever owned slaves, and they were good friends of the local Indians, who felt the Quakers always treated them fairly. However within a few more generations, their Truitt descendents were counted among the slave owners.
Robert Walker Esq., and his son Robert Walker Jr., were mentioned in the previous section on slavery. Robert Jr. was apparently converted to Quakerism by his wife Mary Jones (W), the daughter of Richard JONES Jr. (W). When Robert Jr. was converted, he promptly brought all his children into the church, including his son, and our next ancestor, William WALKER (discussed elsewhere). However William and several other children subsequently married outside the church, and were therefore later "disowned" by the Society of Friends.
But my most intense "Quaker" research has involved the MYERSFamily(W) : The Quakers kept great records which yielded a tremendous amount of information. However one critical Myers ancestor got disowned by the Quakers because he was something of a troublemaker, and his generation disappeared from Quaker records. Filling the gaps in the family puzzle was a real challenge!
Moving West:
Cornelius ATEN (C) was among those moving west. Born in New Jersey, he moved to Pennsylvania, then Ohio, then Illinois. His son Aaron, born in Pennsylvania, continued the migration after Cornelius died and ended the trek in Iowa. Lots of our ancestors were moving in the same direction, to Ohio, Indiana, Illinois, Iowa.
The "Walker" branch also has some among the early settlers to move west of the Mississippi. See the files for Jacob Sylvester ARNEY (W). And Bartlett Yancy WALKER (W). And for some good first-hand story telling, see the narrative about his Iowa pioneer family written by J. N. MACHLAN (W) nearly 100 years ago. (This last one is a long file, and his narrative starts about 1/3 of the way down.) And if you read the above section on the German branch of the Walker family, you found another story of our ancestors moving west.
The Immigrants:
(See separate discussions on "New Amsterdam" and on "Indentured Servants" and "The Germans" - - these are stories of immigrant ancestors.)
Of course our family ancestors were ultimately ALL immigrants. However for many of the branches of the Coffey and Walker families, we don't have much information on exactly when the first ones arrived. More is known about some of the German immigrants, see earlier discussion. Also see Peter KIVETT (C), who arrived to contribute to the Coffey group.
In the years around the turn of the 20th century, there were several more recent immigrants who became parts of our family. Some of their records can be found at Ellis Island, and the ship manifests offer some insights into the people. See John BELLAS (B) and his wife Julia PAVELKO (B). Also read about the arrival of Anton MALETSKY (L) and his pregnant wife with 5 children. And Longine RASZEWSKI (B) and his wife Katherine WOLLEN (B).
So what are our national origins? Listing the source of the name first, the Coffeys can claim to be Irish, English, French, Dutch, Norwegian and Scottish. The Walkers can claim Scottish, Belgian, English, French, German, Irish and Swiss. The Lehmans are German, Austrian, Hungarian, Polish, Romanian, and Russian. And the Bellas families are Slovakian, Austrian, Hungarian, and Polish. And all of the above come with a generous helping of "Unknown".
The "Old Country" and "Royalty" Connections:
Our information, for most branches of the family, only goes back to their first arrival in America - - if even that far. The "Hampton" and "Lawson" branches of the Coffey family go back farthest in these records (however be warned that the proof of the connections for these branches could stand some additional research). Anyway, one John HAMPTON (C) born in 1517 in Twickenham, Middlesex, England, is claimed to have been a "Clerk of Council to King Edward VI". And Ralph LAWSON (C), born 1547, was Knighted by James I of England on July 23, 1603.
Detective Stories:
There were a couple of families where the men dropped out of sight, with the women getting the kids and thus getting remembered by the future generations. The trick was trying to figure out where the MEN went! I'm particularly proud of the detective work I did to chase down my great-grandpa J. N. MACHLAN (W). It was also very tough to sort out whatever happened to great-great-great-grandpa Marmaduke BARNES (W) - - and this one has a sad ending.
Another challenge was finding the ancestry of Great-Great-Grandma Dorcas GLASS (C). I worked with cousin Tim Peterman to solve (most of) this mystery.
There have been lots of genealogists working on the Coffey family, and I learned a great deal from reading their work. But one big mystery that several of the cousins are still chasing involves presumed ancestor Chesley COFFEY (C). What's the problem? We can't even agree if the man existed!
However the Walker family has been another story, and as far as I can tell I am the only one who has really dug into it. An important missing link was GGG Grandpa William WALKER (W), and I'm proud of how much I was able to dig up about him.
I mentioned the MYERSFamily(W) and their Quaker roots. Open this link if you dare – it's a 46 page "detective story"!
What's my biggest puzzle of today? Well, circumstantial evidence, supported by DNA, suggests that one Marmaduke KIMBROUGH (W) is an ancestor. And I think my descent is through his son Goldman KIMBROUGH. But I can't prove it! Click on Marmaduke's link and see if you can offer any advice!
Genealogical Puzzles:
Over in Illinois, William COFFEY (C) and his brother Benjamin married the BARBRE sisters, Malcena and Lucy. And they had children. (Benjamin also married a third Barbre sister, Anna, after Lucy died.)
In Iowa, Moody ROBINSON Jr. (C) and his brother John married the ATEN sisters, Ellen and Martha. And they had children.
Then the two Coffey families then moved to Iowa, and met the two Robinson families. And one child from each Coffey family found a spouse in one of the Robinson families. And they also had kids.
Now the puzzle, which you can try out on your friends: "How can two people have different parents and different grandparents, but have the same identical set of eight great-grandparents, without any marriages of blood relatives?"
Stumped? See the following chart:
<![if !vml]>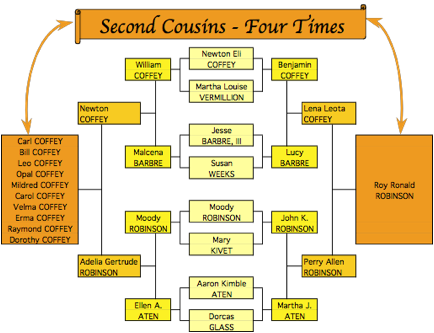 <![endif]>
Ministers and Missionaries:
Yes, there were quite a few. See Newton Eli COFFEY (C), Velma Leona COFFEY (C), and Alvina Irene ROBINSON (C). Some ancestors even have ongoing churches named after them. Read about Benjamin BARNES (W), who founded the Barnes Methodist Church* in Southampton County, Virginia.
*Historical Footnote: NAT TURNER, the slave who led the famous rebellion in 1831, preached in the Barnes churchyard the week before he started the insurrection. Benjamin Barnes was deceased by that time, but his widow and children would almost certainly have been inside the church on that day!
A Martyr:
One Protestant Minister got caught up in the Catholic/Protestant disputes that arose in England after the Reign of Henry VIII. Ancestor Rowland TAYLOR (C) was burned at the stake in 1555.
The Old Days:
If you like reading about the daily lives of people living in old times, see Leo Newton COFFEY (C), Newton COFFEY (C), and Elsie Maureen WALKER (W), Note that these three reports are based on interviews of living people – something I wish I had the foresight to do more of many years ago!
A Favorite Ancestor?
Do I have a favorite ancestor? Well, if you measure by the hundreds of hours spent digging for info, and the success in making discoveries, then the winner must be Robert WALKER Esquire (W), the patriarch of the Walker branch of my family.
Robert was an innkeeper, a judge, a politician, a land speculator, etc. And he was a friend of the Moravians, who kept wonderful diaries. And his home area eventually became known as "Walkertown", which is now a thriving city near Winston-Salem, North Carolina.
The following is the entry point into an expansive analysis of Robert. And note this offers a series of sub-links into expanded topics:
www.coffey.ws/FamilyTree/FamilyNotes/AboutRobertWalkerEsq.htm
Steel Executives:
Albert L. LEHMAN (L) was a successful president of a steel company.
Russian Soldiers:
Gotthelf F. LEHMAN (L), before he immigrated to America, served in the Russian army - - because he thought the food was better than in the German army. He was living in Poland. But spoke German at home. His wife was Irma MALETSKY (Maletsky is Polish for "Small") - - her German family chose the name because it sounded more Polish than their original family name of "Klein" (German for "Small"). This is all explained!
The "Famous" and the "Remote":
If "famous" means they put up your statue, let me introduce John BRIDGE (T). There is a large sculpture of John Bridge located on Cambridge Common, near the intersection of Massachusetts Avenue and Waterhouse Street, in Cambridge, MA. Also, if John's statue would look off toward its left, he would see "Hastings Hall", which sits on the Harvard Law School campus. This building honors the family of Deacon Walter HASTINGS (T). Walter's home was originally on this site, and money for the modern building was contributed by a descendant of his. Actually, several ancestors had connections with Harvard, or owned property on what eventually became the expanded Harvard campus. But Walter is the only one had the distinction of (eventually) having a Harvard building named after his family. (Oh, the Harvard Business School has a "Teele Building", but that was named for a Teele cousin, not an ancestor.)
For a Coffey shot at "famous", I have to go way back, and reach for the brother of an ancestor: One claimed ancestor, Margaret TYNDALE (C), born in 1510, had a brother named William TYNDALE, born about 1495. William became well known for his negative comments to and about King Henry VIII, Sir Thomas More and Cardinal Thomas Woolsey. He then prudently fled to Germany from England, and translated the bible into English. He then got burned as a heretic. By the way, Margaret married the Protestant martyr Rowland TAYLOR, mentioned earlier.
They're not ancestors, but among our distant cousins are two U.S. Presidents. Deep within this tree you'll find President James MADISON and President Zachary Scott TAYLOR. They're on the "Coffey" side of the tree. You can look them up in the Index, but if you just want to see how they fit in, visit the notes on the TAYLOR Family.
The next best I can do on "Famous" is our distant Coffey Cousin, the actor Humphrey BOGART. His branch also wins as "most remote contemporary relative" - - he is a half 8th cousin of the children of Newton and Gertrude Coffey.
Below is a chart, showing the connection to Humphrey. My daughter Laura was fascinated by the connection, so the chart is extended to her level:
<![if !vml]>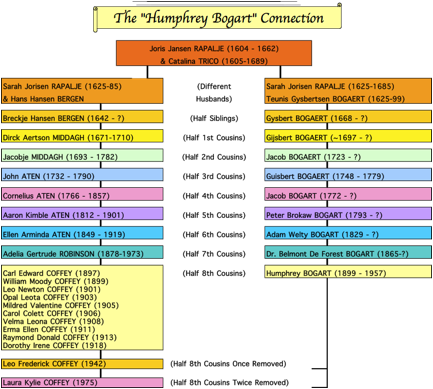 <![endif]>
One of the most remote in time is one Thomas LAWESSON (C), born in 1250. Another contender is Richard Gervais DE HAMPTON (C), who was born in 1430. One branch, however, went so far back I didn't have the patience to enter it all - - have a look at the notes with James CAMPBELL (W), whose ancestors take us back to 772 BC. You don't believe the last one? Well I found it all on the Internet, so it must be true!
(You like working maze puzzles? Go visit Humphrey Bogart in this tree, then try to find the path to Richard Hampton and/or Thomas Lawesson by clicking on names!)
"COFFEY" Origins:
"Coffey" is an Irish name, but we don't know the details about exactly where the first immigrant came from. But the first immigrant was Edward COFFEY (C). From there, the "Coffey Cousins" have been actively digging up vast amounts of information. Click here for a hint at the volume of Information Resources .
Within that, click on the box "MRCA: Coffey/Keogh". This will explain why I believe our "Coffey" ancestral line traces back hundreds of years to County Wexford, Ireland, where the MRCA (Most Recent Common Ancestor) of our large, extended family lived. But the MRCA's surname wasn't "Coffey", it was more likely something similar to "Keogh". Wikipedia will tell you that Keogh is a reduced form of the Gaelic "MacEochaidh". Wexford is considered an ancient homeland of the Keogh (MacEochaidh) clan. CAUTION: This is a long and complicated discussion!
Can Science Help? Testing DNA:
We have used DNA testing to establish connections within several groups of our ancestry. I am one of the administrators of the "Coffey DNA Project". It turns out there are actually a lot of DIFFERENT Coffey family lines, and this project looks at all of them. But OUR family is the largest group. Here's our web page:
http://www.coffey.ws/FamilyTree/DNA/
There's a tremendous amount of complex information here, but I recommend you look at the section "Background Discussions". This uses OUR family as an example, and should tell you all you care to know.
There is also a major discussion of our Walker DNA here, and work has been done on DNA from Myers, Arney, Machlan, Robinson, Aten, and Lehman. Ask me for details!
MORE GOODIES: FAMILY ONLY!
If you are a close cousin or other relative, you can ask me for more. I can send you electronic files that include living relatives, and that would facilitate you getting started on developing and expanding your own family tree.
METHODOLOGY / LIMITATIONS / PLANS:
Now that you've had a first look, let me (1) give you some idea on how I got this information, (2) introduce some qualifications regarding the reliability of the information, and (3) mention where I plan to go from here:
The initial core of information was collected several years ago from family sources. I owe particular thanks to Illa (Dorsey) Coffey, who worked for some years in cooperation with Tim Peterman; To Dorothy (Coffey) Smith, who wrote some of the essays on the family; To Geraldine (Walker) Binning, who helped extensively with the Walker family; To Ken Larash for work on the Lehman family; To Sandra (Bellas) Coffey, who is just beginning research on the Bellas family; To my "sixth cousin" Nancy Granros, whom I discovered by chance in Miami at a computer genealogy seminar when she observed "I have 'Vermillions' in my family too!" And to each of those people who helped with autobiographical information on themselves.
I often use ancestry.com as a source of information, and I do maintain a version of my family tree there. However I have learned to never trust any "tree" posted there by other people, without verification of the data! As you read the notes in this "tree" you will find that I have tried to acknowledge all my sources.
I view what I have as a "starting point" for future investigation. In future years I plan to spend some time trying to come up with more solid verification of the data herein. Meanwhile, accept this data with caution - - and read the supporting notes to see where it came from.
I've written a selection of papers on various family genealogy topics, here are some you might find interesting:
I tried to identify ALL of the descendants of my 8 sets of great-great-grandparents, down to my own fifth generation. And tried to determine where they lived for every census from 1850 through 1940. Of course I never found them all, but I did find about 1100 of them (not counting their spouses!). Here's the result of that effort:
http://www.coffey.ws/FamilyTree/TheBookOfCousins/
Next is "An examination of the Coffey Families living in and around Russell County, Kentucky, in the 1800's":
http://www.coffey.ws/FamilyTree/RussellCo/
Not related to family, but in my examination of court records in Surry County, NC, I kept finding puzzling references to one of the black residents of Surry County. I finally couldn't let it alone and dug in:
http://www.coffey.ws/familytree/familynotes/A4StoryOfJaneScott.htm
And I offer a look at the letters written by my great aunt Alvina Robinson, writing about her missionary assignments in India and Burma:
http://www.coffey.ws/familytree/familyNotes/AlvinaRobinson/